Smurfs is a famous series created by Peyo. Peyo firstly started to create them on 1958. Smurfs are blue little creatures living in Smurf Village and fighting against Gargamel and other forest characters. There are lots of series, theme parks, games and more about Smurfs. In 2011, Smurfs movie was on theatres and it took good critics. Smurf characters were originated from daily roles of people like Lazy, Brainy and more. Smurfs broadcasted in various countries with the translated language. Some of the countries prohibited the broadcast because of political aspects. But Peyo didn't make any approval talk about this controversies. How many Smurfs characters are there?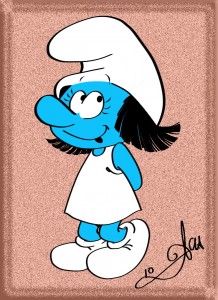 There are over 100 Smurfs characters in series. Some of them were seen on all episodes but also there are some characters that his story is only told in one episode.
One of the main characters is Papa Smurf. Para Smurf has bushy white beard and red clothes. Smurfs turn to Papa Smurf is there's a problem. He has well magician skills.
Smurfette is a female smurf. The Smurfette is created by Gargamel on a magic work. She was black haired but Papa Smurf returned her to blonde. Smurfette is the only female on the village.
Hefty Smurf is the strongest smurf on village and he's professional on hard works. Brainy Smurf is the apprentice of Papa Smurf. He has large glasses.
Grouchy Smurf is the one who hates everything. Grandpa Smurf is the oldest smurf in village. There are also lots of different characters in village.