Cyber-shot or cybershot is the digital camera series of Sony. Sony released its first digital camera in cyber-shot series in 1996. Cyber-shot added lots of developments to digital camera sector like professional Carl Zeiss lenses and InfoLithium battery packs. All cameras of series use special memory card series of Sony known as "Memory Stick PRO Duo." Also some new models are supporting "CompactFlash, Memory Stick PRO Duo, SDHC and SD." Sony is now selling only T series, W series, H series and S series but it's possible to find other series in the market. How many series of Sony Cyber-shot cameras?


Sony released first model of F series in 1996 with DSC-F1. It was offering 0.3 megapixel and 1/3″ sensor but device has no zoom feature. Sony Cyber-shot DSC-F717 of series is released in 2002 and it was one of the first digital cameras using led lights for flashing substituted for infrared photography in night scenes. Also it was offering 5 MP maximum resolution. Sony stopped production of F Series in 2004 with DSC-F88.
Sony's other popular Cyber-shot series is T series. They are Ultra-thin compact cameras. Series started with DSC-T1 model in 2004 and it was a big development on the size of digital cameras. T series became one of the quick followers of technologic developments and new features like 3.3″ OLED touch screen, 16.2 megapixel resolution, 1080i movie recording, 3D features firstly released with this series. Sony released DSC-TX100V last and working on DSC-TX200V.


W series is the best seller of Sony Cyber-shot series. Series started with DSC-W1 in 2004. It has a wide range from 5.1 MP to 18.2 MP now. Some early models of W series didn't include manual mode and it criticized by users but thousands of Sony fans bought them. Sony uses wide angle lens and some special coatings for these models. Sony didn't add HD TV feature to this model even they record 720p and 1080p and only tried HD TV out in DSC-W80 but it was not successful. Sony released DSC-WX150 model on this series with features like 18.2 megapixel and HD Movie 1080i.


S series is also revolutionary series in digital cameras. Sony Cyber-shot DSC-S85 was one of the first models offering 4 MP in market. Series started with DSC-S30 in 2000 and model was offering 1.3 MP. It's an entry level series with no LCD screen. Sony Cyber-shot DSC-S930 became a best seller with its features and silver coating. Last model on this series is DSC-S3000 with 10.1 megapixel resolution.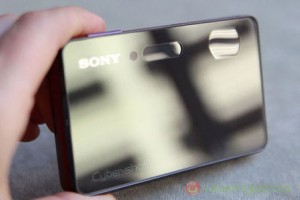 H series is the bridge camera series of Sony Cyber-shot. Series released its first device in 2005 with DSC-H1. It was offering 2.5″ LCD and 5.1 megapixel resolution. DSC-H9 was one of the first models with touch screen on bridge category. DSC-H20 model is released in 2009 and it was offering Carl Zeiss Vario-Tessar lens. Last device released on series is DSC-HX200V. It's offering 18.2 megapixel Exmor R CMOS sensor, Carl Zeiss Vario-Sonnar Lens, GPS and Compass.
Sony also released Cyber-shot based mobile phones. Sony Ericsson K800i was one of them with 3.2 megapixel Cyber-shot digital camera. Device was also including xenon flash. Sony Ericsson K810i added autofocus feature to K800's main camera features. Sony stopped production of Cyber-Shot phones after ceased joint venture with Ericsson.


Sony announced that company will limit the Cyber-Shot families and will work only for limited series. DSC name which means "Digital Still Camera" will still remain. New features like face recognition will be applied to all new models. Sony will also work for professional bridge cameras category.