Game of Thrones is HBO medieval series created by David Benioff and B. Weiss. It's a good adaptation of famous book series "A Song of Ice and Fire". Filming area of series are various from Belfast to Croatia. First season started on 2011. It took lots of prizes since the first season. Story is about Seven Kingdoms of Westeros and their fight for controlling Iron Throne. Nearly 90 countries are broadcasting the series. Arab League, Iceland, Trinidad and Uruguay are some of them. How many seasons of Game of Thrones are there?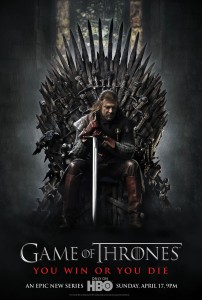 There are now two seasons of Game of Thrones and series made an agreement for season three. First season started on April 17, 2011. It has 10 episodes and each episode is nearly 55 minutes. First season of Game of Thrones is adapted from the book "A Game of Thrones". Series mostly filmed in the Belfast. DVD set of Game of Thrones first season is also released. It was a good work with 5.1 sound and 1080p video. But fans waited for deleted scenes on DVD but there were no deleted scenes on it. But extras like "Making Game of Thrones" and "Creating the Dothraki Language" were some good additions.
King of Thrones season 2 is adapted from "A Clash of Kings" book. Season 2 took good critics like season 1. 88 Metacritic score is some hard to reach.
Season 3 is now filming and it's the adaptation of "A Storm of Swords" book.