Auguste Rodin or François-Auguste-René Rodin with his full name is the progenitor of modern sculpture. He was a controversial artist in his life. He was schooled traditionally and never fight against past of sculpture even if many followers and students of him made it. He always desired desired academic recognition but Paris's foremost school of art never accepted him. He was one of the biggest clay surface experts ever. But most of his works are criticized strictly in his lifetime and mostly took negative reviews. How many popular works of Auguste Rodin are there?


One of his earlier popular works is "The Age of Bronze" It's a life-size nude male. Rodin modeled it in 1876 and it's firstly exhibited in 1877 Salon in Paris, France. Many people believed that casting a living model is wrong and criticized Rodin. He denied it but people were so anger about idea that thousands of people came to see sculpture and Rodin became popular in France. Rodin named the sculpture first as The Vanquished for representing the demoralization of France people after the Franco-Prussian War but then changed the name to The Age of Bronze. The Metropolitan Museum bought the sculpture from Auguste Rodin.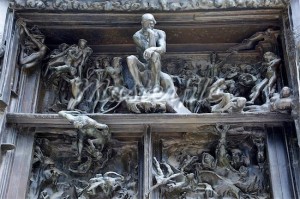 After critics and success of "The Age of Bronze", Auguste Rodin created "The Walking Man" According to resources, he created it in 1878. It's accepting as the biggest evidence of 'sketchy' impressionist sculpture culture of Rodin is "The Walking Man". Because it's one of the earlier works of Rodin, it's possible to see a style search of Rodin in sculpture still. But there are also first signs of his popular style "the dynamic pose" According to some historians, Rodin's "The Walking Man" sculpture is St. John sculpture without head and arms. Sculpture is now in "Art Institute of Chicago"
"The Gates of Hell" is one of the most detailed works of Auguste Godin ever. It's a scene of "The Inferno" part in Dante Alighieri's Divine Comedy. It's 6 meters high, 4 meters wide and 1 meters deep. According to experts, it includes 180 individual figures. Auguste Rodin's admiration on Dante's Inferno is an important factor in his life and it's possible to see some works on this novel before "The Gates of Hell" There are many outstanding figures on the sculpture like The Thinker, The Kiss and Fleeting Love. Many historians believe that "The Gates of Hell" caused a big scandal because Rodin worked over 10 years on this sculpture but couldn't finish and deliver it to Museum of Decorative Arts.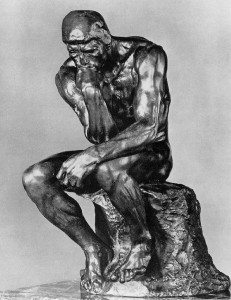 "Monument to Balzac" is Rodin's sculpture in the memory of French writer Balzac. Rodin said that he aimed writer's persona rather than his physical appearance. Sculpture created controversies and the Société des Gens de Lettres rejected it in 1889. It gained support from writers and artists of his time like Paul Cézanne, Claude Monet and Toulouse-Lautrec. It was only possible 22 years after the sculptor's death that sculpture put to Boulevard du Montparnasse. Today many sculpture experts are accepting it as first truly modern sculpture.
In 1889, he created again a controversial sculpture "The Burghers of Calais" It was about Hundred Years' War of 1347. Because of the Hundred Years' War's confused story on public, many people criticized the topic but they praised the work.
The Kiss is created by Auguste Rodin in 1889 and it's complete marble. It was firstly a part of "The Gates of Hell" but then Rodin removed it and replaced to other sculpture.
He created his most popular work "The Thinker" in 1902. It's now in Musée Rodin. It's the most popular image to represent philosophy in the modern culture.