Chicken wings are one of the most popular and easy to create recipe foods all over the world. They have low calories and easy to cook. Especially Americans like chicken wings and chicken wings are one of the indispensable members of barbecue parties. Also there is lots of fast food restaurants specialized on chicken products and especially on chicken wings. It's possible to find some worldwide famous chicken wing recipes beside some local recipes. Chicken is an important food because chicken related illnesses are very few but especially poisoning from expired chicken products are very common. So cooking chicken wings on home is the best way. How many popular ways are there to cook chicken wings?


Fried Chicken Wings are the most popular way of chicken wings cooking in the world. It's possible to find various worldwide and local ways of chicken wings frying. Flour mixture used on preparing chicken wings is the key point for taste. Also which oil is using for frying is very important. It's possible to use oils like canola oil, peanut oil, vegetable oil, corn oil and some more. Crispy Fried Chicken Wings is one of the most popular chicken wings recipes in United States. Buttermilk marinade is the key point on the taste of Crispy Fried Chicken Wings.
Buffalo Wings is another popular chicken wings recipe in the world. They are also known as Hot Wings. There's a classical recipe of Buffalo Wings with deep-fried wings and hot sauce made from cayenne pepper. Especially Americans like to watch movies or sport events with eating Buffalo Wings and some popular bars cook Buffalo Wings with their unique recipes. Real Anchor Bar Buffalo Wings is a popular recipe in United States. Bar serves Buffalo Wings with traditional Genee Cream Ale beer.
Teriyaki Chicken Wings is popular in East Asia and especially in China and Japan. Key point on Teriyaki Chicken Wings' taste is soy sauce and sugar mixture. Whatever level of soy sauce and sugar level are perfect; it makes Teriyaki Chicken Wings so delicious. Japanese people like to eat Teriyaki Chicken Wings in dinner. But Chinese people prefer to eat Teriyaki Chicken Wings in special meetings and family reunions mostly.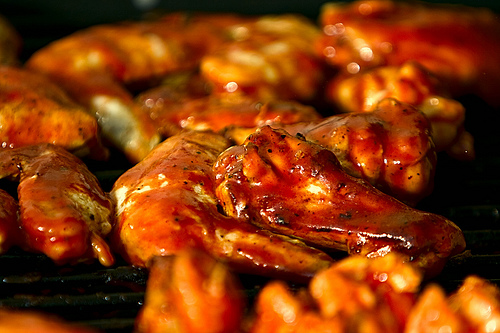 Greek Chicken Wings is another popular chicken wings recipe. Key point of Greek Chicken Wings is Cucumber Feta Sauce. Greeks use plain yogurt, peeled cucumber, feta cheese, dried dill weed and garlic clove in their Cucumber feta sauce recipe. Feta cheese' originality and quality is the most important point on the taste of Greek Chicken Wings.
Barbecue Chicken Wings is a classic for Americans. Classic recipe includes ketchup, honey, Worcestershire sauce, hot sauce and more. Sauce's quality directly belongs to quality of Worcestershire sauce. Beer is also traditional with serving the Barbecue Chicken Wings. Americans mostly cook this recipe in their gardens and weekend parties.
Thai Chicken Wings is the most popular chicken wings recipe on East Asia. There are two main recipes Thai people like on chicken wings. One of them is with spices and other is sweet sauce. Grilled Spicy Thai Chicken Wings is probably the worldwide famous recipe of Thai. Oyster sauce and chili sauce are key points of this recipe. In local recipe, Thai people refrigerate the sauce at least one hour after marinade.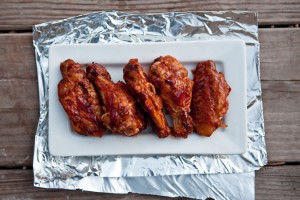 Lemon Pepper Chicken Wings is a popular recipe in Europe. Also Europeans brought it to United States also. They mostly like recipe with beer in the cafes and bars. Also Jerk Chicken Wings are very popular. Americans like Jerk Chicken Wings on summer parties and birthday parties.