Football means history of legendary players and games. It's rare to find a football game without any assertion, tension and hype. It's true that football's nearly 100 years history left many stories and legends behind it. Some of the events in the football history changed even the world. Some football games triggered the war and some of them forced to ceasefire. Some people believed that legendary teams won't be available after 90s because all teams have enough ways to learn all player data but "Arsenal- The Invincibles" in 2003–04 season changed all perceptions. How many popular nicknames of teams in the Football history?


It's true that one of the most popular nicknames in the football history is "The Invincibles" of Arsenal. It was 2003–04 season and manager of team was Arsene Wenger. Record was on Preston North End team. They finished the league and cup unbeaten in 1880 with 18 win and 4 draws. No one believed that a team will break this record. When Arsenal started 2003-04 season, their squad was full of stars and shining young players. Starting XI of team was including many starts like Jens Lehmann, Sol Campbell, Kolo Toure, Ashley Cole, Fredrik Ljungberg, Patrick Vieria, Gilberto Silva, Robert Pires, Dennis Bergkamp and Thierry Henry. Team finished the league unbeaten with 26 wins, 12 draws in 38 matches. Federation gave the team a special Premier League trophy for this achievement. They lost after 49 Premier League to Manchester United 2-0.
Busby Babes is another legendary nickname of football history. It's used for players who went to first team of Manchester United from youth team under the management of Matt Busby. It was after the awful air crash of Manchester United and team was not powerful to buy new players. So team recovered itself with young players from youth team. When they won 1955–56 and 1956–57 championships, average age of team was 21 and 22.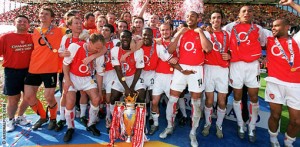 Other nickname used for Manchester United is "Fergie's Fledglings". It was again bad times for Manchester United in the second half of 1980s and Sir Alex Ferguson known with Fergie nickname was very new on the team. Ferguson went the way Busby used in 50s and turned to youth team. New player and future's stars Gary Neville, Ryan Giggs and Paul Scholes came from this period. They won many youth trophies and started in first team in Manchester United. Some of the "Fergie's Fledglings" saw 10 Championships while some of them saw 6. Also they saw two Champions League championship.
"Golden Generation" term is used for many generations of national teams but Portugal is the most known country with "Golden Generation" nickname. First signals of generation came when Portugal youth team won the FIFA Youth Championships for two times in 90s. They played semi-final in 2000 UEFA European Football Championship. They also played semi-final in 2006 FIFA World Cup. Some of the players of this generation also became legendary players in football history. Main names from this golden generation are Luís Figo, Rui Costa, Sérgio Conceição, Nuno Gomes, Fernando Couto and Vítor Baía.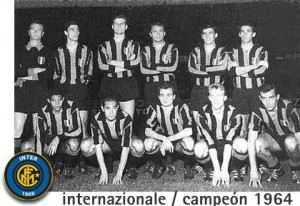 "Grande Inter" was the nickname for 60s legendary Internazionale team. There were a few teams playing the football with a unique tactic in 60s and their defensive tactic "Catenaccio" was a new level on tactical football. In 90s and 2000s, many football men claimed that Internazionale players used doping and president Massimo Moratti made match-fixing events but it's a reality that Internazionale team of the 60s were stick to their tactic completely and they were never leaving the struggle.