Snow tires are replacing the snow chains nowadays. They are stronger and easy to use than snow chains. Main feature of snow tires is their traction level on snow or mud. They can also reduce grip level on rainy days and wet ways. Every country has its own symbol for snow tires because while some countries are allowing additions like metal studs to snow tires, many countries are not allowing it because of damage they give to road surface. For example "snowflake on a mountain" is the symbol using by Canada and United States on snow tires. Choosing the right winter tires can be vital. How many popular snow tires are there?


One of the most popular winter tires is Nokian Hakkapeliitta R. Nokian is a Finnish tire company selling tires in Finland for a long period and they are now selling worldwide. According to Guinness Records, company is also founder of winter tires. After Finland and Scandinavia area, Nokian will start to dominate other world markets. One of the most important feature of Nokian Hakkapeliitta R is their superior lateral grip technology. Also it's possible to find some discounts on the Nokian products because it's Hakkapeliitta brand's the 75th anniversary.
Michelin X-Ice Xi2 is other dominant winter tire product on the world market. It's true that Michelin is working hard to take share from Nokian's dominant market share and they released X-Ice Xi2 winter tires at last. Quality of X-Ice Xi2 is very close to Nokian products and also it's cheaper than Nokian products. It's very hard to say what is differing Nokian Hakkapeliitta R winter tires and Michelin X-Ice Xi2 but according to experts, Michelin is some over for the performance. While Nokian Hakkapeliitta R is perfect in the hard winter conditions especially in the mountains or snowy and muddy areas, Michelin X-Ice Xi2 is excellent on the iced street ways, road blankets and daily road problems.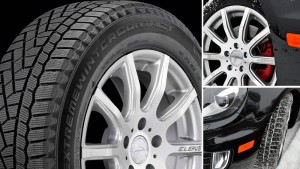 Continental is also a big player of winter tires market and they released Extreme Winter Contact for entering the challenge. Main advantage of Continental Extreme Winter Contact is its price. Also experts are offering Continental's winter tires for the people who use their car every day for small trips and need durable tires. According to tire experts, Continental Extreme Winter Contact is cheaper than its rivals because Continental company is producing tires for many car producers like BMW and this created a big price evolution in the Continental products. It's hard to say Extreme Winter Contact is for going to snowy mountains or icy worlds but it's enough for daily drivers in snowy cities.
Bridgestone Blizzak WS-70 is the latest winter tires of company. It's a common belief that Bridgestone is some behind for producing good winter tires so company is working hard to produce popular winter tires. Bridgestone Blizzak WS-60 winter tires became popular but they were not on the Nokian or Continental level. Bridgestone's new winter tire series Blizzak WS-70 is offering durable winter tires with good performance. According to announcement from Bridgestone, they used a special rubber compound that will be kept as a secret. In the first tests, tires showed more performance than Michelin's X-Ice but it couldn't take enough market share because it lacks the user experience. But it the following years, Bridgestone Blizzak WS-70 can be a leading player in the winter tires market.


According to winter tire tests, Dunlop Graspic DS-3 can enter the top winter tires list but it's still not in the Continental or Nokian class. DS-3 is showing an excellent performance in the snowy and cold dry ways but it's hard to say same for the wet roads.