Disneyland is a famous park located in California. It's operating by The Walt Disney Company. It opened in 1955. There has been lots of expansion since that time on park like New Orleans Square, Bear Country and Mickey's Toontown. Totally over 600 million people visited the Disneyland. How many people go to Disneyland each day?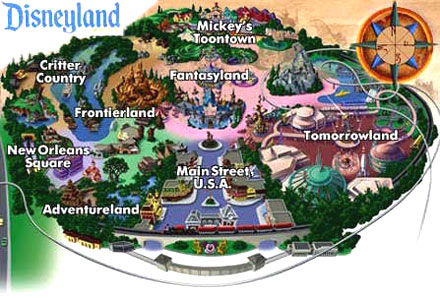 The idea of Disneyland started on Walt Disney and her daughter's visit on Griffith Park in Los Angeles. Walt Disney's daughters were on the merry-go-round but there was no place to entertain for Walt Disney. So he decided to open an entertainment park both for children and adults. Today over 40.000 people are visiting the Disneyland every day.
Park's layout has lots of inspiring from different times and stories of Walt Disney. The main street is a copy of Walt Disney's youth city, Marceline, Missouri.
Adventureland is created for giving the real exotic feel. It's designed on models of African forests. It's also possible to see Tarzan's Treehouse and Swiss Family Robinson house in there.
New Orleans Square is a copy of 19th century New Orleans. This area contains entertainment pieces from popular culture like Pirates of the Caribbean and Haunted Mansion.
Frontierland is the land created to show American history to visitors. Rivers of America and Golden Horseshoe Saloon are the popular parts of Frontierland.
Critter Country is the renamed version of old Bear Country. It's an Indian Village. Splash Mountain is the main visiting point of Critter Country.
There is also Fantasyland inspired from Peter Pan, Mickey's Toontown with cartoon style and Tomorrowland is about future imaginations.