Kardashians are one of the most popular families in last years in the world. They are an Armenian family and Kardashian means Kar=Stone, Dash= carver and ian is patronymic Armenian suffix. They are preparing popular TV show "Keeping Up with the Kardashians" since 2007 and 8th season will be released. They are a funny family but there are also some problems in their marriages and family life. Kim Kardashian is the most popular member of family and she has now relationship with Kanye West. How many people are there in Kardashian family?


Kardashian family now has 8 members. They are Kris Jenner, Bruce Jenner, Kourtney Kardashian, Kim Kardashian, Khloé Kardashian, Rob Kardashian, Kendall Jenner, Kylie Jenner. Kris Jenner is the mother of Kourtney, Khloe, Kim, Robert Jr., Kylie and Kendall. She married to Robert Kardashian but they divorced in 1990. O.J. Simpson trial created big problems between her and her husband. Also she confessed that she had an affair with Todd Waterman while she was married to Robert Kardashian. She married to Bruce Jenner in 91.
Bruce Jenner is the second husband of Kris Jenner. He's 1976 Summer Olympics' decathlon champion. After this success, he had been seen on many ads and TV shows and became a TV personality. He has two daughters from Kris Jenner and 4 children from old marriages. He is the owner of "Bruce Jenner Aviation" Company and selling aircraft supplies.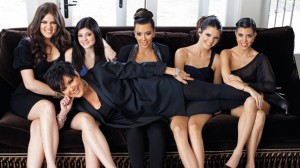 Kourtney Kardashian is the oldest child of Kardashian family. She always love the TV and started her TV career in Filthy Rich: Cattle Drive. She used money that she earned from show for charity. Then she joined the cast of Keeping Up with the Kardashians. She has been seen as the most professional TV face in Kardashian children. She and her husband Khloe created a spinoff of series called "Kourtney and Khloé Take Miami". First season of series started in 2009. Also she has apperared in "Kourtney and Kim Take New York" series in 2011. She made her role debut in "One Life to Live".
Kim Kardashian is the worldwide popular face of family. She gained popularity since 2000s and today she's the highest earning reality star. Kardashian married NBA player Kris Humphries but they divorced after two months. Divorce created deep controversies in American society because of expensive wedding ceremony and early divorce. Magazines wrote her with Kanye West after divorce.


Khloé Kardashian is one of the most active members of Kardashian family. She has a popular clothing boutique D-A-S-H and some other shops. She also involved lots of scandals like driving under the influence, violation of probation and lawsuit against QuickTrim. She has also apperared on shows like Kourtney and Kim Take New York, Punk'd and Fashion Police.
Kendall Jenner is the eldest daughter of Bruce and Kris Jenner. She has worked as model of Sherri Hill dress. She's still working as runway model. She and her daughter became cover of Teen Vogue.
Kylie Jenner is the littlest member of Kardashian family. She's working as model of Sears'. She has seen on lots of photo shootouts of OK! And Teen Vogue. She and her daughter is cheerleaders in school.
Kardashian family is a classic American family with some inspirations from Asia traditions. Especially Kris Jenner is very careful while talking about Armenians. Kourtney and Khloe have some problems on their marriages but they are still continuing. Also some situations like arresting of Khloe Kardashian after giving nude photo shootout for "I'd Rather Go Naked than Wear Fur" campaign of Peta created high public attention on organization.