Frida Kahlo is one of the most important icons of modern century. Her life story is painful, shocking but creative and inspiring. It's possible to say that millions of women are living in seclusion after such bad accidents and problems. But Frida never gave up and made inspiring paintings so few women succeed. She's a Mexican and her life and career started and finished in Mexico, Blue House. She is mostly known by her self-portraits. She's an idol for feminism movement and an important art figure for her country and world. How many paintings Frida Kahlo made in her life?


Frida Kahlo made 143 paintings in her life. 55 of them were self-portraits. She always insisted that portraits of her are not dreams, they are the own reality of her. Some of her works are became world famous and sold for million dollars.
Frida Kahlo's painful life experiment reflects in her paintings. Her painful life story has milestones. One of the milestones is her polio. In 1913, Polio hit Frida Kahlo and made her limp. Some of family friends say that Frida Kahlo's saving from so strong Polio with only limp problem is a big chance.
She entered National Preparatory School in 1922 and shined after a short period. She started to attend leftist meetings and meet with important future artists of Mexico.
While authorities are reviewing her as a close future important artist, Kahlo involved in a bus accident. She got important injuries especially in her right leg, pelvis and spine. This accident left Kahlo a painful life and over 30 operations in her lifetime. But it also directed Frida Kahlo to painting.


While she was waiting to recover in bed for months, she learned that she'll never be a mother. After this event, she made an imaginary birth document and named her imaginary son as "Leonardo".
Her first important painting is "Self-Portrait in a Velvet Dress". She made this painting as a gift to her imaginary son and her friends claim that she made lots of her paintings as a gift to her imaginary son with the believe that he will be back.
After recovery in 1927, she started to write and take letter from her boyfriend Alejandro Gomez Arias. She made lots of paintings of her friends and entered to Young Communist League.
After she met Diego Rivera, she ended her long relationship to Alejandro Gomez Arias. Then they married on 1929. In 1929 Kahlo made her popular self-portrait painting "Time Flies".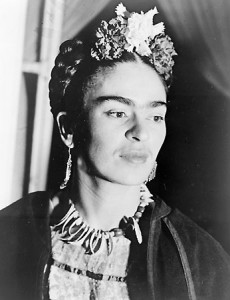 In the first years of their marriage, they faced some problems like abortion causing from Kahlo's wrong pelvis position. Kahlo made "Frieda and Diego Rivera" wedding portrait in 1930.
In 1930s' first half, Kahlo and Diego Rivera faced some politic problems. Because of Kahlo refuse offer not to use Lenin's portrait in a mural, Rivera's Rockefeller Center commission and General Motors' commission were cancelled.
In the second half of 1930s' Frida and Diego Rivera's emotional relationship finished. Frida and Diego Rivera lived various relationships.
Since 1950s' Frida Kahlo became more and more popular in the world. Her works started to sell in exhibitions. She also faced health problems and stayed in hospitals various times.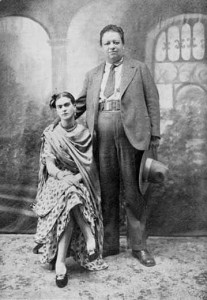 Frida Kahlo was dead in 1954. Main cause is reported as "pulmonary embolism". But some fans and historians believe that it was a suicide. There are some researches and documentaries about it. Her last entry in her diary was "I hope the exit is joyful – and I hope never to return – Frida". Diego Rivera was dead in 1975. Diego's last wish was a mixture of his ashes to Frida's ashes in "Blue House" but her sons and daughter didn't accept it.