Nook e-book readers or Barnes & Noble Nook with its official name is the biggest rival of Amazon's Kindle e-book readers. It's released by Barnes & Noble bookstore and based on Android OS. First devices are announced and released in 2009. Main features of Nook are E-paper, Wi-Fi and 3G. First models were not offering color display and Nook released Nook Color in 2010. Now Barnes & Noble discontinued many models of Nook and there are three models in the market. Nook has many advantages and disadvantages than Kindle and other e-books. How many Nook models are there?


Nook Simple Touch is the most popular e-book reader of company in the market now. It's announced and released in 2011. First release price of device was US$139. It's offering 800×600 E Ink screen which was ahead of its time in 2011 but today there are more developed models in the market. Also it was one of the first e-book readers with touchscreen. Barnes & Noble released LendMe feature with this device which is allowing people to lend their e-books. It was possible to lend an e-book with money for one or two weeks and lender can read its book on the Nook E-book reader or PC. Battery life of device is long up to 2 months without Wi-Fi usage. Most important user friendly feature of device is support of EPUB which is not supporting by many Kindle models. It was also supporting both DRM and NON-DRM EPUB files.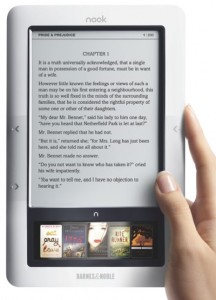 Other Nook E-book reader model possible on market is Nook HD. It's a 7-inch e-reader. It's also possible to use it as tablet or media player. First announcement of device is made in September 2012. There are two editions of device as 8 GB and 16 GB. It's produced as a rival of Kindle Fire but most of the book fans or e-book readers don't like the concept that not offering E-ink technology or other special e-book reader features. It has Android 4.0.3 with a modified interface. Model satisfied users with 1440 x 900 capacitive multitouch screen.

After Nook HD, Barnes & Noble released Nook HD+. It's available on two forms as 16GB and 32GB. Nook HD+ disappointed Nook fans with its price. 16GB version is entered the market from $269 and 32GB version is $299. Price range is very close to Ipad and most of the users preferred to buy Ipad. Like other Nook devices, Nook HD+ is allowing to shop from Barnes & Noble e-book store. Also it's coming with many apps so users don't have to buy required apps. Barnes & Noble claimed high-speed browsing and cinema-like sound in this model but according to first tests, features are not ahead of other e-book devices. A developed version of NOOK Cloud system is also installed to device so all books users bought are also keeping on the cloud. Besides disappointed e-book readers, device satisfied Nook tablet fans with its 1920 x 1280 resolution on 256 PPI and 1.5 Ghz processor but 10 hours of battery life is still not challengeable to Kindle models.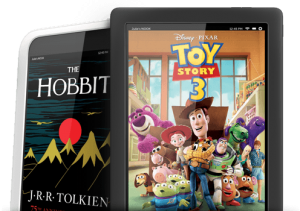 Barnes & Nobles retired many e-book readers but it's still possible to find them on the market. Nook Classic is the 1st generation of Nook devices and it's discontinued in early 2011 because of shrinking demand.
Also Nook Color which is coming with Android 2.1 is discontinued from market. Latest price of Nook Color after release of Nook HD and Nook HD+ was US$139.
Nook Tablet is also a discounted model still possible to find on market. It's latest price is US$199.