Dodge Viper or SRT Viper with its changed name for 2013 is a sports car powered by V10 engines. Car is produced by Chrysler's Dodge part. Chrysler stopped producing sport cars in 2010 because of high cost but Dodge continued to produce them with some cost cuts like manual transmission. It will be the fifth generation of SRT Viper. Car is firstly revealed in a dealer conference in 2010. Chrysler Group and Fiat CEO Sergio Marchionne came to America and announced the car. Marchionne made an interview and said that new SRT Viper will be accessible to more people. How many new features of 2013 SRT Viper are there?


First of all, 2013 Srt Viper has 640-hp V-10 engine and most of the reviewers carried the car into supercars category with this feature. In the first tests, 0-100 interval for car was 3.5. Also top speed was 206-mph.
It's a truth that old Vipers were problematic and after problems continued in new series, it gave Viper a bad fame. But in new 2013 SRT Viper, engineers work hard to solve the problems. First of all, they lowered the car's weight. According to catalogue, this number is 140 pounds but fans believe that it's higher than it. Also they made 50 percent stiffer of its chassis.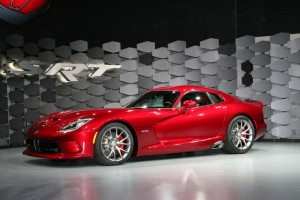 Also The Tremec-supplied six-speed manual is a brave change for this model because its rivals are trying to develop more complex transmission systems now. According to Dodge engineers, manual transmission means lower clutch effort for this car. Also it will give a precise feel. After complaints about suspension system of Viper, Dodge also changed the way Viper's suspension is working completely. Now car is offering more predictable handling.
The hint Dodge Company thought while producing this car is totally revolutionary because its rivals are not taking their power from technological features while Dodge Srt Viper believes its technological concept totally. It's true that SRT Viper is very hard to reach its rivals in performance but it can go into them with its price and performance on this configuration.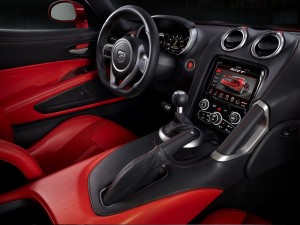 Srt Viper has a name on this market but rivals of it are getting stronger more every year. Corvette ZR1 is the biggest player on this category and it beat Ferraris with its price. Also C7 is coming to this category with its new features. Also Mustang will release a new car for this category. So it's true that 2013 SRT Viper can run faster than Chevy or Ford but it's very hard to see it in the top of the list for now.
Interior design of 2013 SRT Viper is not offering something revolutionary but it accepts challenges with new style. Especially Harman Kardon audio system and developed inside car connect system are important design details. Dodge used its classic color variations again and they are again very beautiful for all. Especially part and style nicknames like "Venom" and "Stryker" are very charismatic. Full 8.4-inch touch screen will be on new SRT Viper like other cars of company like Dodge Charger and Chrysler 300. Garmin navigation system is optional for interior design. Also Sirius-XM satellite radio and HD radio are optional while an integrated HDD is possible as standard equipment.
Dodge decided to make Pirelli P Zero Corsa tires optional for this model but it must be bought if driver want a good driving quality especially in rainy or snowy days. Also Chrysler may get the price discount after first weeks because according to news, company is planning the Street and Racing Technology name as a separate vehicle brand and can use discount for advertisement.