Chevrolet Silverado or Chevy Silverado with its popular name is one of the most popular cars in the USA. It's also a leading full-size pickup truck of General Motors catalogue. Car has many models today and many models took 5 stars from tests like frontal driver, frontal passenger, side driver, side rear passenger. Car only take 4 stars from rollover test. Also a special model of Silverado is using for military operations. Especially Canadian Army is using this special model. How many new features are there in 2013 Chevy Silverado models?


GM added various new colors to Silverado 2013. They are Metallic, Blue Topaz Metallic, White Diamond Tricoat and Deep Ruby Metallic. Company also deleted some old color options like Imperial Blue Metallic and lack Granite metallic from catalogue.
Also lots of features are removed from new Silverado 1500 2013. One of them is P265/65R18 on-/off-road tires. P265/65R18 SL 1112T all-terrain, blackwall are added to new 2013 Silverado models. According to sources from company, complaints about these tires forces company to replace them. Also company removed Florida Edition Residency-based package, LPO Cargo Management System Rails, Sliding bed divider, Overhead rack/bed divider, Overhead Utility Rack and Deluxe Chrome Package from new model. Also company made changes on Silverado Extended Cab models' sunroof. Silverado 1500 Hybrid made only color change for 2013 model.


According to first reviews, new 2013 Chevy Silverado offers a more car like inside design. So it's possible to use Silverado as a daily car for all members of family. Also features like soft blue backlighting and plenty of cupholders are making car possible to use for women.
New 2013 Chevy Silverado has larger V8 engines. Especially hauling and towing ability of car is stronger than 2012 model. Especially hybrid model is the upside of fuel efficient pickups. Also features like electronically controlled four-wheel drive are firing the performance level of pickup.
First of all, interior design of 2013 Chevy Silverado is more comfortable than 2012. But it's hard to say same thing for upright and hard back seats. Since 2007, Silverado was popular for its work-truck look but in 2007, GM made big changes and added some luxury items to design. It's hard to say Silverado has large space as Ram 1500 and Tundra but it has still excellent legroom and headroom. GM added some place to new 2013 Silverado for putting notebook or smartphones. Also GM worked to decrease the level of sound coming from outside for more comfort.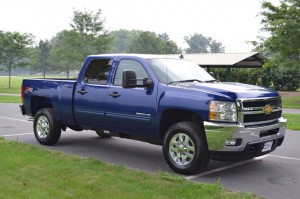 According to reviews, changes on new 2013 Silverado decreased the level of security. It's possible to see that IIHS and federal government made lots of security tests to Silverado but these tests are only possible for one body type and model has various body types. According to the IIHS test, Silverado 2013 has a good performance but there's no body detail in results. Also in details, side-impact protection of car is only "acceptable" and roof strength is also "marginal." The NHTSA also tested car and gave four stars. The NHTSA reported that it tested all body types. There's no problem on standard safety equipment of car. Also features like anti-lock brakes, tire pressure monitors and traction control are good features. GM added a developed rearview camera system and power-adjustable pedals to new 2013 Chevy Silverado.
GM produced various body types for 2013 Chevy Silverado 1500, so it's possible to choose the suitable model between them. There's also an online "build your own" feature of Silverado and car experts offer this feature for creating the most suitable model for you.