The San Antonio Spurs is the NBA team of San Antonio, Texas. They are in the Southwest Division of the Western Conference. They are one of the oldest teams of NBA after 1976 ABA-NBA merger. They have many records in NBA history like first and only ABA team won NBA championship. Also they have now highest winning percentage in NBA history. Till the first set; San Antonio Spurs only missed playoffs for four times. How many NBA Championships of San Antonio Spurs are there?


After team drafted Tim Duncan, it was an increasing performance rate of team and expectations from team were highest in 1998-1999 season. San Antonio Spurs were popular with "Twin Towers" as David Robinson and Tim Duncan. It was also the year Gregg Popovich started as coach. In the first year of new team, they managed to win 56 games but lost in playoffs and in 98-99 season, they again went to playoffs. They defeated Minnesota Timberwolves, Los Angeles Lakers and Portland Trail Blazers and final was between San Antonio Spurs and New York Knicks. Spurs won the series 4-1. Spurs forward Tim Duncan became the MVP. Before finals, authorities named the Knicks run to final as "Cinderella run". Series started 2-0 in at Spurs home. Knick managed to win first game in their home but lost the second and series went to 4-1.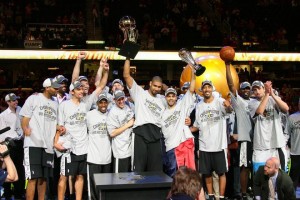 2003 NBA Finals was the time San Antonio Spurs won their second NBA championship. It was a complicated season for Spurs because of their new home CBS Center and new home related problems first. Then David Robinson announced that 2003 season will be his last season. Against all injuries and problems, Spurs finished the season with 60-22. They tied the record of NBA history. First opponent on Playoffs was Phoenix Suns and they lost the first game at a dramatic extra time but then they managed to pass the round in 6 matches. Then they passed Los Angeles Lakers in 6 matches and Dallas Mavericks in 6 matches. Their opponent in NBA Finals was New Jersey Nets. They came to finals by passing Milwaukee Bucks, Boston Celtics and Detroit Pistons. Spurs won the series 4-2 and Tim Duncan became MVP of the series. It was the finals that two former ABA teams played against.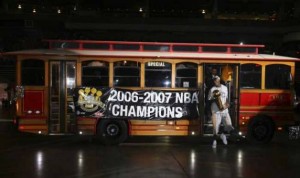 2005 NBA Finals was the third time San Antonio Spurs took the ring. San Antonio Spurs finished the season with 59-23 under Phoenix Suns's 62-20. They defeated The Nuggets on the first round of playoffs with 4-1. Then they passed The SuperSonics and Phoenix. Many authorities believed that Phoenix is the favourite of the series but they couldn't stand against Spurs and lost 4-1. Detroit passed Philadelphia, Boston Celtics and Miami and authorities said that Detroit went on a harder road than Spurs. It was one of the most impassion finals of last years and Spurs managed to get the ring with 4-3. Tim Duncan was the MVP of finals.
2007 NBA Finals was the last time Spurs took the ring. San Antonio Spurs finished the regular season 58-24. It was the season Dallas Mavericks dominated with 67-15. Spurs passed Denver Nuggets 4-1 in first round then Golden State Warriors , Phoenix Suns and Utah Jazz for Finals. For newcomers Cleveland Cavaliers, it was the season LeBron James is started to shine. It was the first NBA Finals for all Cleveland Cavaliers players except reserve point guard Eric Snow while some Spurs players saw 3 championships. Spurs players forced Lebron James to stop and Spurs passed series 4-0 without any loss.