Winter means rain and snow. It also means driving in hard conditions. Winter maintenance may be vital for drivers and passengers. It's true that today lots of car services are making a general maintenance but they are not looking to important details. So it's a duty for drivers or car owners to control the maintenance details for hard winter days. It's also very important to choose the best date for winter auto maintenance because some checks are cheaper in summer but today it's also possible to see lots of discounts in the first days of winter. How many important points are there in winter auto maintenance list?


Antifreeze is one of the most important things to check in winter maintenance. Today most stable mixture of water and antifreeze is %50-50. Most of auto services try to add more water and less antifreeze. It's very dangerous especially for cold and snowy winter days. There are some individual antifreeze tests for $5 and if you are not sure about mixture, you may test in in your garage.
Tire checking is also very important in winter maintenance because tires are the most important part of your car and even any of your car parts are perfects, if your tires are not stable, they are nothing. Also winter is the time that you will buy tires more expensive than ever and lots of brands with not safe tires will be in market. After lots of accidents with new tires in USA, The National Highway Transportation Safety Board reported that a tire's depth must be at least 2/32″ to be safe. But various reports showed that tires must be at least 4/32″ at snowy days. Taking tires to test for winter days is important whether they are new or old. Also pump 'em up is very important.


Car owners don't like to change wipers but they can be vital in snowy or rainy winter days. Stable wipers are important for two main situations. First of them is items like leaves falling to glass. Wipers must be strong to wipe them because in heavy traffic or fast riding they can be very risky. Other is wiping in heavy rain and snow. Lots of accidents in rain and snow occur from lack of wipers and decreasing visual area. There are also heavy fines for cars with problematic wipers.
If you are living in a cold climate, washer fluid must be antifreeze added. There are lots of products in the market and some of them are cheaper than standard. It's very important to check the freeze limit of fluids because temperature under the shield may be hot enough for cheap fluids but when they are spread to glass, they can create a thick ice.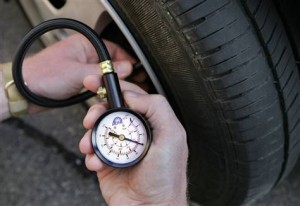 Break control is very important and leaving it only to control of service may be dangerous. There's a common belief that brakes are only important for quick stop and snowy ways but most dangerous moment for brakes is rainy ways.
New technology integrated road computers and GPS devices are also offering detailed car control. They can test the tires, engine and more. Also GPS devices offer live traffic control and more. They can also warn for road blockages, rainy and snowy ways. Also especially in big cities, there are traffic radios. Check your system if it's possible listen to traffic radios in your route or not. Sometimes it's possible to listen them from internet and some cars have special systems in their car radios to take radio announcements from radio channels.