Hayao Miyazaki is one of the most popular Anime creators and directors in the world. He created first anime which won American Academy Award with "Spirited Away." He also won Japanese Academy Awards various times. Miyazaki has similar themes on all of his films like strong woman or girl, pacifist ideology and human's fight against nature or technology. He has short films, anime and other scripts. It's possible to see high influences in his works from Akira Kurosawa. Also many Disney animation creators accepted that they influenced from Miyazaki. How many Hayao Miyazaki anime are there?


Hayao Miyazaki wrote 23 anime and directed 21 ones. Spirited Away is one of his best works ever. Anime won Academy Award in Best Animated Feature category. Spirited Away is classically a story of a young girl. After her parents are caught by spirits when they eat spirit's food, she tries to take them free again in a big adventure. Spirited Away is a perfect combination of fantasy, eastern elements, awesome animation technique and thrilling storyline. Especially story line is unpredictable and sometimes shocking.


Princess Mononoke is also a very popular anime of Hayao Miyazaki. It's mainly about a boy and a curse following him. Miyazaki used CGI graphics for the first time against all critics. Storyline and action is combined great in anime. Also it's possible to see lots of different characters and their stories. Movie made some controversies when it's released in theatres first because of its brutal and violent scenes. Especially children shocked in the war scenes. Villain of movie is very rare for Miyazaki discography because it's not one sided and has detailed character analysis. People believe that James Cameron influenced from Princess Mononoke while creating Avatar and it's possible to see some realistic comparisons about them. Princess Mononoke also has a special place in animation history with its detailed graphics.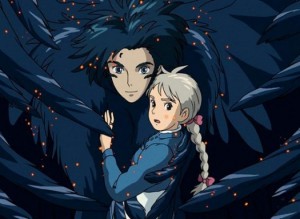 "Kiki's Delivery Service" is an alive and kicking story from Hayao Miyazaki. It's mainly about a young witch and her story about leaving her home for training. Movie couldn't make good gross in theatres because of its classic story which is not offering fantasy or myth enough but movie took great reviews with its exciting storyline and good graphics. "Kiki's Delivery Service" is not the most popular piece of Miyazaki collection for classic viewer but it has a special place in family movies category.
"Castle in the Sky" is Hayao Miyazaki's definitely best movie in the storytelling category. Story is so detailed that people watched several times when it released to theatres. Movie is mainly about a young princess and his friend. They try to find "flying castle in the sky" with princess' special ability on necklace. Movie is released in Japanese originally and English dubbed in other countries. It's the Miyazaki's first movie with English dub professionals. Movie couldn't gain enough popularity in theatres because everyone was waiting a masterpiece from Miyazaki's increasing performance and people called this movie as a transition point.
"Howl's Moving Castle" is the Miyazaki movie which especially youth likes most. Story is mainly about a young girl who cursed by a witch to turn into an old woman. Story is an adoption from novel and this adoption disappointed Miyazaki fans because they believe Miyazaki has a big imagination world and doesn't need any adaption to create anime. Miyazaki again created great visual success but some points of story was very confusing.


"My Neighbor Totoro" is the most "created for children" story and anime of Miyazaki. Movie is about two young girls and their spirit friend Totoro. Adult fans don't like the story but movie is accepting one of the greatest family movies ever.