Hanukkah or Festival of lights with its other name is a popular Jewish holiday celebrating on all Jewish families. Origin of Hanukkah comes from 2nd century BCE. Festival starts on Hebrew calendar's 25th Kislev and it lasts for eight nights and days. Now it converted to Gregorian calendar and date comes to different days like late November or late December. Festival starts with kindling the lights over candle tree. It's an important tradition now for Jewish people and Jewish families come together with relatives and friends to give gifts, eat meal together and sing songs. How many Hanukkah songs are there?


As a celebration, adults and children sing some songs. It's traditionally a song for each day but there are also people singing without an order.
Ma'oz Tzur is one of the most popular Hanukkah songs ever. It's a hymn and people sing it after candles lighted. It's possible to translate the meaning of song to "Stronghold of Rock" but there's also a popular English version of song as "Rock of Ages." Lyrics of hymn talks about 13th century and problems Jews faced in this era. Main topics in hymn are Babylonian captivity, The Exodus, Purim and Hasmonean victory which is the origin of Hanukkah.
Light One Candle" is not a traditional Hanukkah song but it's today going to be a traditional one. It's firstly sung by Mary ,Peter and Paul in a Hanukkah concert and then it became a popular song for Hanukkah. Israelis sang this song as a symbol of peace in Israel. Some synagogues in Israel also sing this song in Hanukkah. Especially the first line of song "Light one candle for the Maccabee children" is a symbol for Israelis.


"Candlelight" by The Maccabeats was the hit of 2010. The Maccabeats is an acapella group from Yeshiva University and they wrote lyrics over the 2010's popular song "Dynamite" of Tairo Cruz. When song is released in Youtube, it took nearly 6 million hits and became one of the most popular Hanukkah songs ever. Main topics of song is frying latkes and playing dreidel.
"Oh Chanukah" is a popular children song popular to sing in Hanukkah. Israelis wrote the name of song as "Oy Chanukah." Song talks about main events of Hanukkah like dancing the Hora, lighting the menorah, eating latkes. English version of song is very popular and it's singing nearly all Jewish families over the world. There's also a Hebrew version of song with very different lyrics but it's only popular in Israel.
"I Have a Little Dreidel" is also very popular between Jewish people live in other countries. Yiddish version of song is known as "Ikh Bin A Kleyner Dreydl." Especially children like this song with its rhythm like children songs.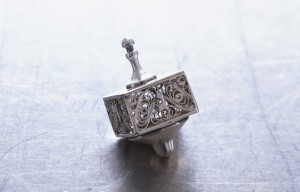 Adam Sandler created a Hanukkah song with funny and sarcastic lyrics. Some Jewish religion leaders called this song as not a kosher but it became very popular against it. Adam Sandler wrote some sarcastic lyrics on the song like Jewish children shouldn't feel alone while celebrating it. Also he talks about famous Jewish people on this song. After song became very popular, Sandler wrote more parts and added them to original but none of them became popular as original.
"Sevivon" is one of the most popular Hanukkah songs in Israel. Song is written in Hebrew but there's also an English version. Song talks about dreidel. Also song talks about miracle happened in the Israel temple's oil source. Children and adults sing this song together and children mostly play with their dreidel while singing the song and talks about miracle on Jewish history.