Grand Theft Auto IV is the fourth installation of worldwide popular PC game GTA. It's again published by Rockstar Games but this version is developed by Rockstar North. Game is firstly released for PlayStation 3 and Xbox then ported to Windows. Game's world is different than its predecessors. Game's main setting is again in Liberty City but it's more similar to New York City than ever. Game is carrying character of driving games and third-person shooter games again and developing its open world feature. Cheats are also very useful for GTA 4. How many GTA 4 cheats are there for PS3, PC and Xbox?


Way of entering cheat is same for PS3, Xbox and Xbox, What you must do is using Niko's cellphone. After started to use Niko's cellphone, you must use directional keypad for entering cheats. When you see 'Cheat Activated' message, it means your cheat is activated.
One of the most used cheats for GTA 4 is "482-555-0100" It gives Niko health and weapons. "482-555-0100" is working on all levels and maps. But it's not giving any armor which is vital for Niko.
For health and armor, you must write "362-555-0100" to Niko's cell phone. It gives full armour and weapons but it has a disadvantage that cheat blocks "Finish Him." Achievement totally. There are some ways to make the cheat without blocking the achievement but way is very hard and can broke the game files easily.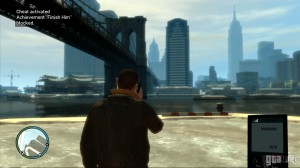 Cheat code for advanced weapons is "486-555-0100" It's giving many weapons like Baseball Bat, RPG, Combat Sniper, SMG, Combat Shotgun, Combat Pistol and Grenades. Cheat is perfect for playing in the free world but if your target is finishing the levels, you have to find some weapons to finish the level and it will be very hard with this cheat.
Cheat for combat weapons is "486-555-0150" It gives many weapons like Molotovs, Combat Sniper, Assault Rifle, RPG, Micro SMG, Pistol. Weapons giving with this cheat are always usable and it's easy to reach them without cheat also.
Remove Wanted Level cheat is "267-555-0100" and it is for gamers who like to play the game over the police. If Niko is on the "police wanted" level, It will remove any of the police wanted signs. But cheat also blocks "Walked free" achievement totally. Making the cheat without blocking the "Walked free" is possible for PC users but it's not possible for PS3 and Xbox users. You can also raise wanted level with "267-555-0150" code. Cheat adds one star to Niko.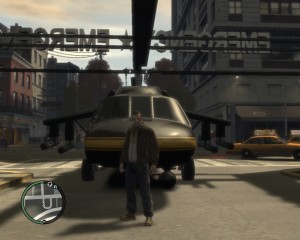 "468-555-0100" is for changing weather conditions. It's mostly for fun but in some levels, it's also helpful for finishing the mission easier. It's possible to choose one weather types from 8 total types.
"359-555-0100"is the code for Spawn Annihilator. When gamer entered the code, an Annihilator helicopter spawns in front of Niko. It's helpful for going to a place without more effort and running away from problematic areas easily.
In some levels, Niko needs a motorboat to across through river or he have to walk far. It's not easy to find a motorboat but with "938-555-0100" a Jetmax boat will be in front of him.