Euro 2012 football championship was hosted by Poland/Ukraine. Organization was one of the most exciting tournaments in the recent football history. Spain became champion. Euro 2012 is also has an important statistics that it's one of the most goal scored tournaments in the history. After Greece won the tournament in 2004 with a defensive style football and Italy became world cup champion with a similar defensive tactics, it was a deep controversy that where the football is going. 2.45 goal average per match is shaped the controversies for a different route. How many goals scored on the Euro 2012?


Teams scored 76 goals totally in the organization. Fernando Torres, Mario Balotelli, Cristiano Ronaldo, Mario Gómez, Alan Dzagoev and Mario Mandžukić scored three goals. Fernando Torres became official top scorer of tournament.
Spain scored 12 goals totally and four of them were on the final game. They made it against critics on Spain's no forward style football. Spain only couldn't score on the semi-finals match versus Portugal. David Silva, Xabi Alonso, Cesc Fàbregas, Jesús Navas, Jordi Alba and Juan Mata scored for Spain. They were the most clean sheets team with 5 matches. They used only one penalty and Xabi Alonso scored it against France.
Another finalist Italy scored 6 goals totally in the tournament. They were known with their defensive tactics in the world but Italy's head coach Cesare Prandelli changed the team to a more attacking style. Mario Balotelli scored three goals in tournament and two of them were against Germany. Also Antonio Cassano, Antonio Di Natale and Andrea Pirlo scored one goals. Italy was one of the four teams finished the match 0-0 in the tournament. Match was against England.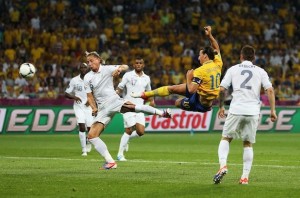 3rd of tournament Germany scored 10 goals till semi-final. Mario Gómez scored three goals. Also 7 footballers like Mesut Özil, Lukas Podolski and Phillip Lahm scored one goals for their national team. Germany played a softer game style than older tournaments. They only saw 4 yellow cards and it was fewer than recent tournaments.
Another 3rd of tournament Portugal scored only 6 goals. Cristiano Ronaldo scored 3 goals but it was not enough for Portugal to win the cup. Also Pepe, Hélder Postiga and Silvestre Varela scored one for Portugal. Portugal's official scorers couldn't score any goals in the matches. Moutinho and Bruno Alves missed penalties against Spain.
Fifa honored England as the 5th of tournament. They scored 5 goals only in the tournament. England's scorer Wayne Rooney couldn't play on the first matches of tournament because of his ban from qualifying rounds. Wayne Rooney only scored one and other 4 players scored also one goal. Glen Johnson scored an own goal and it was the only one in the tournament. Steven Gerrard made three assists but he couldn't score any goals. In the Quarter-finals match, Ashley Young and Ashley Cole missed penalties.


Totally 60 assists were made in the tournament. Steven Gerrard, Mesut Özil, Andrei Arshavin and David Silva made three assists.
There were some shining and disappointing players of the tournament. Mario Gómez was one of the most shining footballers of tournament with his power on the penalty area. Also Mesut Özil played an important role in his team that commentators agree that it's hard to see so assistive players in Germany football history. His team eliminated on early stages of tournament but Mario Mandžukić scored three goals. He signed to Bayern Munich after tournament. Mario Balotelli and Cristiano Ronaldo were expected to be the stars of tournament. They made good job but couldn't help their team to win the cup. Samir Nasri, Xavi and Arjen Robben and Wesley Sneijder were criticized for their performance.