Lionel Messi is only 25 but authorities believe that he's one of the biggest football players on the history. He awarded on best player for several times. Messi is some different than former and popular football players. Stars like Messi like to be with women but Messi's relationships are not like them mostly. He tries to be best on football. He dated with popular models in recent years but today there are lots of rumors that Messi's Argentinian girlfriend is pregnant. How many girlfriends of Lionel Messi are there?


2005-06 was the first shining season of Lionel Messi. Magazines were following him but he was also a child still. Then rumors started about Messi's girlfriend. Her name was Macarena Lemos. This hot model caught Messi's heart on his hometown Rosario. It was three days before 2006 World Cup and Messi was injuried. Messi and Lemos' relationship is finished by Messi's mother. Magazines wrote that Messi's mum attacked Macarena Lemos with a Frying Pan. Macarena Lemos made some interviews about this situation but Messi or his mother didn't make any interview. Some magazines claimed that Messi finished this relationship in 2006 but also there were some claims that relationship lasted since 2008.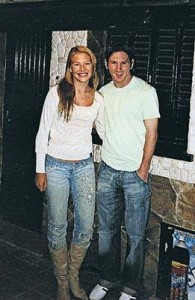 In 2008, it was a real magazine bomb that Messi and Argentina's famous model Luciana Salazar is together. Magazines asked lots of questions about this relationship to Messi but there were no answer. There were also no photos on date. At last Messi told in famous Argentina football program"Hat Trick Barça" that "I have a girlfriend and she is living in Argentina. I am relaxed and happy". Messi's mother is an important figure on Messi's date history and rumors said that she didn't like Luciana Salazar. They split up on 2008.
After 2008, Lionel Messi found what her mother is looking for. Antonella Roccuzzo is not a model or TV girl. They met on 2008. Magazines shot them on Sitges festival before Barcelona-Espanyol match. In 2010, Messi made an announcement that he will be a father. Then Antonella Roccuzzo announced that he's a boy and his name will be Thiago. In 2010, there were also tweets started to spread that Messi and Roccuzzo are marrying on moment but Messi denied these claims and said its impossible now. Then pictures of couple appeared in magazines while they have engagement rings. Roccuzzo tweeted that she's waiting the baby on September.
Whether Messi's soft life or Antonella Roccuzzo's pregnancy and engagement rings didn't stop the gossip. It's claimed that Lionel Messi is dating Anna Weber. This blonde is famous for catching popular names' heart and it's maybe true what claims are saying about them. But there are still no photos from them.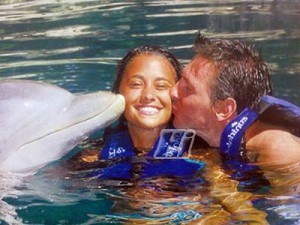 Messi also caught on Msn Messenger with video chat for several times. He likes Msn chat but after some problems he's now using only chat function without any video.
There are lots of compares about Lionel Messi and his rival Christiano Ronaldo. Also it's possible to see same compares about their girlfriends Irina Shayk and Antonnella Roccuzzo. Antonnella Roccuzzo is not a glamour model like Irina Shayk but she's wearing all the features of a hot Latin women. She took lots of offers from magazines for posing but she didn't accept still any of them. Ronaldo doesn't like to speak about his girlfriend but Messi likes it. He made a goal against Ecuador and celebrated it with placing a ball on his jersey like pregnant. It was a confirmation of his pregnant girlfriend.