Ryan Giggs is a Welsh footballer and a living legend playing for Manchester United. He was born in 1973 and first seen in 1990–91 season. He's playing regularly since 1991–92 season. He started to play football as left winger but then Alex Ferguson created a playmaker from him. Ryan Giggs has won lots of championships and cups with Manchester United. He's also played most games for team. How many games Ryan Giggs played for Manchester United?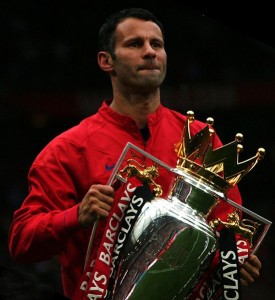 Ryan Giggs played over 905 matches for his team in league, FA cup, League Cup, Europe and other competitions. Alex Ferguson says "it's not possible again for a player to play so many games for a football team.

It was a chance that Manchester United and Alex Ferguson was searching for a left winger for two years. It was the first time Alex Ferguson's two transfers on this wing were failed. After Jesper Olsen's depart Ferguson signed Ralph Milne and Danny Wallace but they were not played well. So it was chance for Ryan Giggs but he was only 17. He shined on left wing and voted to PFA Young Player of the Year. But Ferguson has no permit to an interview with Giggs to newspapers since 20 years old.
He wanted to retire on 2012 but Ferguson didn't allow it so Giggs will play more for two years in Manchester United. He also has known with his discipline. He has never been sent off in the 20 years of Manchester United Career.