Barcelona is the capital city of Catalonia and the second biggest city of Spain. Every year millions of tourists are coming to city. Barcelona is not a very cheap city for tourists but there are some free beaches that tourists like to see and swim. How many free beaches Barcelona have?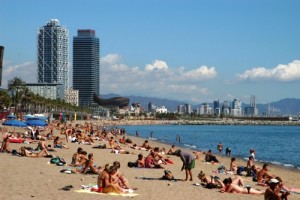 There are 7 free beaches on the Barcelona. They are very clean but crowded especially in August. One can also take a drink on the cafes beyond the beaches.
Barceloneta beach is the main free beach of city. It's possible to walk from city to beach or going there with metro. There are also lots of cafes on American style in the beach.

Nova Icaria beach is not crowded as Barceloneta but it's famous for restaurant and cafes. Especially Chiringuito and Mango restaurants are very famous.
Mar Bella Beach is also Barcelona's free beach. It's using for watersports mostly. It's possible to see lots of gays and lesbians in this beach.
Bogatell Beach is one of the calmest free beaches of Barcelona. Mostly families go to Bogatell Beach. There are less resturants than Barceloneta beach here.
St Pol de Mar Beach is for clean water lovers. It's quite in some months but crowded especially in august. There's also a big cove known as nudist zone in the beach.
Castelldefells Beach is one of the longest free beaches of Barcelona. It's not a quite one. Especially in august it's very hard to find a good place.