Football is one of the most popular sports in the world and it has the biggest fan base also. When it's a world cup final or European Champions League final, there are over 1 billion people watching the event. Big demand forced clubs to make bigger and bigger football stadiums in their cities. But it's also true that keeping over 100.000 people safe in a stadium with so high tension is not so easy. Today football stadiums are not only home of football clubs, they are also home of big concerts, athletic races, Olympics and other big organizations. 90.000 capacity for a football stadium is today accepting very high. How many football stadiums are there with over 90.000 capacity?


There are 9 stadiums over 90.000 capacity today. Rungrado May Day Stadium is North Korea is the biggest football stadium in the world. It's located in one of most isolated cities, Pyongyang, in the world and there's limited knowledge about it. There's no big football league in the North Korea and stadium is mostly using for big parades. It's opened in 1989 and today North Korea national team is playing some matches of it on this stadium.
Salt Lake Stadium in Kolkata, India is another big football stadium. It's hard to understand why Indians are not interested in football while they are interested in every topic in the world but they are getting more and more familiar to football every day. Capacity of Salt Lake Stadium in Kolkata, India is 120,000. It's the home of India national teams which is known as "The Bhangra Boys" Many big football clubs of India like Chirag United Sports Club, East Bengal Club, Mohun Bagan and Mohammedan Sporting Club are also playing their games in this stadium.

Estadio Azteca with 120.000 capacity will be remembered forever with World Cup finals in 1970 and 1986. Maybe there will never be such a big crowd in a world cup final then. Stadium is also one of the rare stadiums taking this honor twice in its lifetime. Now the stadium is the home of the Mexican national team and it's hard to win a match there against Mexican team when stadium is full. In its first world cup final, stadium saw Pele, Jairzinho and many big players. In its second host, stadium saw Maradona's "hand of God".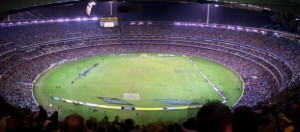 Melbourne Cricket Ground was the host of Melbourne Cricket world but today football is also growing and Australian national football team is playing their game in this stadium. Capacity of stadium is 100.000. In 2007, Australian National team played a match against Argentina in this stadium and many Australians saw stars like Lionel Messi, Javier Mascherano and Carlos Tevez in this stadium and football love in country growth continuously till these moments. Today Australian national football team is playing their competitive matches in here.
Bukit Jalil National Stadium is a new stadium in Malaysia and capacity is 100.000. It's built for 1998 Commonwealth Games and today Malaysian national football team is playing their games in here. In 2012, Manchester United played against Malaysia XI in this stadium and Michael Owen scored a good goal. Bukit Jalil National Stadium will host important European teams in this season.
Camp Nou of Barcelona, Spain is the biggest stadium with most active usage. Official capacity of stadium is 98,772 but it's known that over 110.000 people are coming to stadium in important matches. Since the Camp Nou of Barcelona is built and hosted the Barcelona team, they are one of the biggest and most popular teams in the world.