Mortal Kombat is one of the most famous fighting games in the world. It's releasing since 1992. The last released Mortal Kombat game was for PS Vita. The most famous Mortal Kombat game is Mortal Kombat 2 released in 1993. Also there's a movie called Mortal Kombat. Mortal Kombat is a 2-d classic style fighting but some special moves and finishing are departing it from its category. There is always a comparison between Street Fighter and Mortal Kombat. Mortal Kombat has more violence and death than Street Fighter. Every character has a special finishing move in game. How many finishing moves in Mortal Kombat?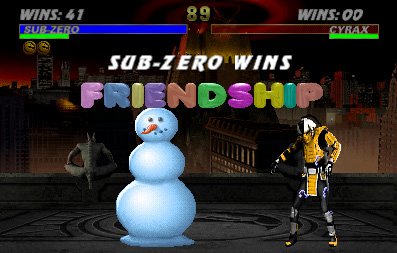 Mortal Kombat's last moves are called "Fatalities". "Fatalities" are a combination of free move and fatal finish. There are mortal moves but also a friendship move.
The "Friendship move" is firstly released in Mortal Kombat 2. Mortal Kombat 1 took lots of critics about violence inside the game. So producers decided to put some humor evidence to new game. With the "Friendship move" Fighter is giving flowers to opponent instead of killing him. "Mercy" move is also a humor move and gives a little health to opponent.
There are also moves with high violence in Mortal Kombat series. One of the most popular ones is "Animality". In "Animality" finish, winner become a wild animal and finishes his opponent violently.
In "Brutality" finish, winner makes a big combo and splices his opponent to slices. In "Babality" opponent turns to a baby. Also there's move called "Hara-Kiri" and opponent kill himself after lost.