Formula 1 is the biggest one seat car race in the world. Formula 1 has special cars and circuits. Formula 1 is running in lots of countries. There are street circuits like Melbourne and Monaco, urban locations like Las Vegas. There are famous brands in Formula 1 like BMW Sauber and McLaren. Security is one of the most important things in Formula 1 races because race car's speed is over 300 at some ways. There are no fatal accidents since 1994 but lots of drivers dead on Formula 1 accidents till 1994. How many fatal accidents happened in Formula 1?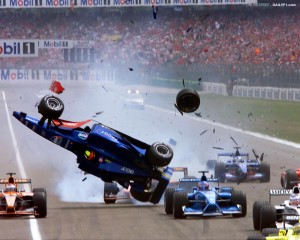 There are 47 racers died in Formula 1 since 1952. First driver died in accident was Cameron Earl and last one is legendary driver Ayrton Senna in 1994.
It was a very dangerous way to race with formula cars in 50s. Total 15 drivers are dead in accidents. Mario Alborghetti was the first Formula 1 driver dead in race in 1955.
14 drivers are dead in Formula races in 60s.  After 6 fatal accidents from 1960 to 1961, there were some strict rules but it didn't stop the deaths.
In 1970s, professional Formula 1 races were on the starting period. After Jo Siffert died in 1971 World Championship Victory Race organization again meet and took some more strict rules.
In 80s Formula 1 races were hold professionally ever. From improved safety car to health units, 80s races were both excited but less accidents. Only four drivers dead in 80s and two of them died in race only. In 90s there were two accidents in 1994 and Roland Ratzenberger died in 30 April, Ayrton Senna died in 1 May.