Eragon is the first book of famous writer Christopher Paolini's book series called Inheritance Cycle. Book made such a big impact that series is also known with the Eragon name. After a long promotion period, book discovered by a famous publisher and become a worldwide famous one. Books are about farm boy Eragon. After he finds a stone his adventure starts because this stone is a dragon egg. Book is so successful that movie adaptation was made in 2006. How many Eragon books are there?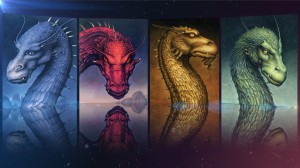 Famous book series of Christopher Paolini named as Inheritance Cycle. There are four books of series. They are Eragon, Eldest, Brisingr and Inheritance.
First book Eragon is about farmboy Eragon and his way to be a dragon rider with Saphira. Battle begins firstly in this book. Book became one of the most standing books on New York Times Children's Books Best Seller list.
Second book Eldest starts with Ajihad's dead. Also election in Vardan, Nasuada's choice and Roran's hunting is another important topic. Book made an important effect on children book's readers. But there were also critics.
Brisingr is the third book of Eragon series. Story starts with Helgrind travel of Eragon, Roran and Saphira. Their return to Ellesméra, Galbatorix's power source and Islanzadí are the important parts of book. Book took some bad critics.
Inheritance is the final book of series. Christopher Paolini thought the series as three books but then series released at four books. Last book is mostly about Varden's siege and Eldunarí's energy. Book took some good critics.