Diva is the name of women in the World Wrestling Entertainment. In first years it was only name of wrestlers but now valets, managers and ring announcers are also calling as diva. Diva movement of WWE first started on 50s. But it was a long way to be o title in the organization. In 90s, WWE Divas was not so much but they were working to be popular. Leilani Kai, Alundra Blayze and Heidi Lee Morgan were the main stars of WWE Divas 90s. In the second part of 90s, Divas were heard by romantic and sexual stories mostly. After 2000, Divas like Lita returned fight to ring again. Her higher-risk moves took good critics from authorities and watchers. Today, WWE Divas are very popular. How many divas are there in WWE?


Today there are 14 divas in WWE. Most popular one is Layla El or Layla with her nickname. She was a dancer in dance videos created for TV. Then in 2006 WWE Diva Search, she made a big success and signed a contract with a company. After some years, she started to became a dominant wrestler and created a team called Team Lay-Cool with Michelle McCool. Her first WWE Women's Championship was in 2010 May. In 2011 she faced an important injury and there were news that her wrestling period is over but she returned back and in 2012, she won WWE Divas Championship. She has some unique finishing and signature moves. The Face Lift and The Layout are her most famous finishing moves. Also she's popular with signature moves like Reverse crossbody and Low dropkick. Also she's managing some wrestlers.


Tamina Snuka is another popular WWE Diva. Her real name is Sarona Reiher and she's the daughter of Jimmy "Superfly" Snuka. She likes to combine her power with some men teams. Their fight with The Hart Dynasty was an unforgettable event on WWE history. Her most famous move is "Superfly Splash". She adopted this move from her father Jimmy Snuka. Also she has signature moves like Headbutt, Superkick and Samoan drop. She "never gave up" fight style bring her the nickname "The Warrior Princess".
Alicia Fox is one of the most beautiful girls in WWE Divas. She was a model since 2006. Then in 2006, she signed to WWE and made her debut in Ohio Valley Wrestling. She's mostly famous with her feud against The Divas of Doom. Her finishing moves like Officer Nasty and Watch Yo Face. All two moves are adapted from popular moves. She has WWE Divas Championship for one time and OVW Women's Championship for one time.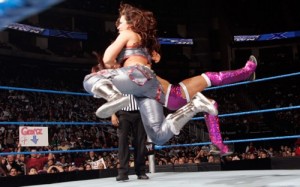 Divas are not only fighter. Also announcers are calling as divas. Lilian Garcia is the most popular ring announcer nowadays. She's also a singer. She mostly seen on WWE Divas organizations but she has seen on WWE Superstars in 2009 as announcer.
Beth Phoenix is also a popular name and 2010 WWE Divas Champion. She had also a good amateur wrestling career and after trained by All Knighters, she became a Diva. In her debut year, her high domination gained her the nickname ""The Glamazon". She has famous finishing moves like Beth Valley Driver, Delayed cradle suplex and Chokebomb. Jim Johnston created her a special entrance theme named "Glamazon".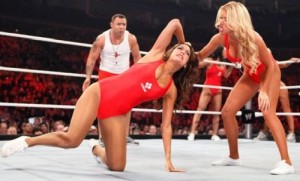 Also there are popular divas like AJ, Aksana, Cameron, Eve, Kaitlyn, Kelly Kelly, Naomi, Natalya and Rosa Mendes. Also Divas became popular with their Playboy appearances and their news for refusing the offer. Sable became the cover of Playboy for three times and she has the record now. Also Torrie Wilson became cover of Playboy.