Hurricane Sandy is one of the biggest tropical cyclones in 2012. It showed biggest effect on October 2012. According to Hurricane center, Hurricane Sandy is the biggest Atlantic hurricane ever recorded. It has also one of the biggest storms in 2012 Atlantic hurricane season. According to early calculations, Hurricane Sandy's damage is over $20 billion. With business interruptions and other problems hurricane caused, damage is over $50 billion. With this bill, its second biggest damage a hurricane gave to America. Hurricane Sandy hit the coast cities and went to inside areas. How many countries are affected from Hurricane Sandy?


Hurricane centers followed Hurricane Sandy will the first day of it are development. It's started in Caribbean Sea as a tropical wave. Wave is developed so quick that after 6 hours, centers labeled it as a Tropical storm.
Hurricane is firstly seen in Greater Antilles. In this area, Sandy Storm also became a hurricane. It was October 24 that started to move on Jamaica. Both Government of Jamaica and Government of Haiti started a storm watch and turned it to a tropical storm warning. In October 23, Hurricane entered Cuban Provinces.
In the late hours of October 23, The Government of the Bahamas warned about tropical storm and Hurricane Sandy entered the land. Hurricane made damage in area and moved to islands. All islands made a tropical storm warning in October 23.


In October 23, hurricane watch centers agreed that Hurricane Sandy is coming to East Coast of the United States. Government weather forecasters issued that Sandy Hurricane may hit the East Coast by 90% chance. Some media outlets used "Frankenstorm" nickname in their news and it created a big panic in East Coast cities. Cnn and some other big channels used "superstorm." Johns Hopkins University made a research and warned that over 10 million customers will lose electricity. Electricity companies in various places like New Jersey, called workers to company and prepared them for long shifts.
Federal Emergency Management Agency started to monitor Philadelphia, Boston, Atlanta and New York City. FEMA started to work with tribal emergency management partners.
In October 28, President Obama signed emergency declarations for several states. It gave a right to want federal aid for states affecting from hurricane. Also lots of services like AMTRAK stopped their service for preparing hurricane. In October 28 and October 29, over 5000 flights are cancelled. U.S. Air Force and The National Guard put 45.000 personnel in alert for duty of hurricane affected states.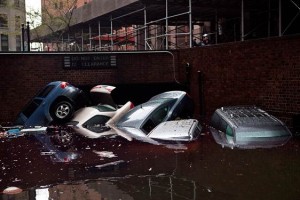 Storm affected various states. In Florida, lots of schools are closed because of storm warning, floods and precautions. Sandy Hurricane hit South Florida's coastal areas. In North Carolina, Blue Ridge Parkway's some sections were closed by The National Park Service. Also North Carolina Governor Beverly Perdue wanted emergency aid for some areas of North Carolina. In Virginia, Navy sent away ships from Norfolk Naval Base. Also lots of names like Mitt Romney, Barack Obama, Bill Clinton and Joe Biden cancelled their campaign appearances in area. Obama declared that he will stay on Washington D.C.
D.C., Washington, Virginia, Pennsylvania and Maryland governors declared states of emergency in October 26. The United States Office of Personnel Management in Washington D.C is closed in October 29–30. Obama also declared state of emergency for District of Columbia.
162 people confirmed killed in the Hurricane Sandy period. 90 people died in United States and 1 is still missing. 54 people died in Haiti and 24 people is reported as missing. Thousands of homes lost power in the Hurricane Candy especially in United States.