Mesut Özil is a German footballer who was born in 1988. Now he's playing for Real Madrid. He has Turkish descents but choose German national team and playing for this team since 2006. 2010 FIFA World Cup was the shining moment of him; he nominated with Golden Ball Award in this tournament and then transferred to Real Madrid. He's acclaiming with his special abilities and unique style. Especially it's known that German football is very hard to raise high-technical footballers so Mesut Özil has a special place for them. How many clubs are there Mesut Özil played for?


Mesut Özil played for 5 teams in his career. His youth career started on German clubs. After various clubs, he firstly shined on Rot-Weiss Essen. He played 5 years for Rot-Weiss Essen. He took place on lots of reports of youth team agents. In his first of Rot-Weiss Essen he's known as a player who don't like physical contact and want to keep ball more than standard. But on last years of Rot-Weiss Essen career, he changed his ball control style but still known as a noncontact lover.


2005 was the turning point year for Mesut Özil. He transferred to FC Schalke 04's youth department. In first period, he couldn't find chance to play because he was waiting Lincoln to play in first 11. He played on some practice matches with FC Schalke 04 but he was living the problem with his position. He was trying to be the playmaker of his team but his coach was waiting him to be a central attacking midfielder. Chance came to Mesut Özil after Lincoln was suspended on Ligapokal matches against Bayern Munich and Bayer Leverkusen. He played so big on these two matches that a newspaper wrote "the next big thing," about him. He also became topic of an article on Kicker. After these two matches, Özil want to play on first squad but Lincoln's performance was on top level also. He made a quarrel with team management and transferred to Werder Bremen in 2008.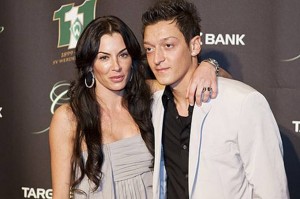 After his transfer to Werder Bremen with a contract on €4.3 million, lots of newspapers criticized the team management because Diego was on team and he was on his top level of performance. After some wait, chance came to his feet again in 2009 DFB-Pokal. He scored the winning goal against Bayer Leverkusen. Also he played an important role while his team is going to UEFA final. They lost to Shakhtar Donetsk on final.
In 2008–09 season, his team Bremen was really disappointing. They finished the league as 10th. But Mesut Özil was the shining point of team. He scored three goals and made 15 assists. Beside them, he had a football style that exciting all football fans when he took ball. His 15 assists was one of the topics mostly spoken on this season. Next season Özil helped his team to finish the league on 3th with 9 goals and 17 assists. Besides his goals and assists, Özil was the chief, boss, playmaker and best player of his team on all matches he played.
After his performance in 2010 FIFA World Cup, big teams like Arsenal, Manchester United and Barcelona worked for transferring him. When there are lots of claims that he signed to Barça, Werder Bremen officially announced that Mesut Özil transferred to Real Madrid.


He firstly waited Kaka as a backup teammate but then Kaka's injury opened him the way. He played 105 matches on two seasons for Real Madrid, he scored 17 goals and assisted for 49 times.