Chromebook is the new player of personal computer world and it's most important feature is Google Chrome OS. It's a good combination of personal computer and a pure cloud client. First Chromebook devices are announced in Google I/O 2011. Samsung and Acer were the first companies selling Chromebook products. First products shipped to testers and first review of Chromebook is published in 15 June 2011. Chromebook has very limited offline features and it needs online cloud connection. Chrome OS is not offering installing apps, it's possible to use web apps. Google experts claim that avoid installing apps and multilayer cloud computing is offering best antivirus protection ever. How many Chromebook models are there?


First Chromebook is produced by Google and called as "Cr-48." It's shipped to testers worldwide. Testers praised the device but some of the features like lack of optical disc is also criticized.
Today there are 5 Chromebook and 2 Chromebox variants of product. Chromebox is desktop variant of device. Google Chromebox is offering 1.66 GHz single-core Intel Atom N455, 2 GB RAM, 16 GB SSD storage, 12.1'' screen size and 3.8 lb in weight. One of the most important features of Cr 48 is fast boot time.
Google Chrome Os is using a Linux kernel and CR 48 is offering "instant boot" like "mini Linux." It's possible to write a web address and surf in internet five seconds after pressing power button. It was the fastest ever in 2010 but today there are faster tablets. Also Chromebook wakes up from sleep in 1 seconds and it's very similar to the MacBook Air. Web experience is the heart of Chromebook; it's faster than most notebooks but speed is based on processor's limit and it's not high.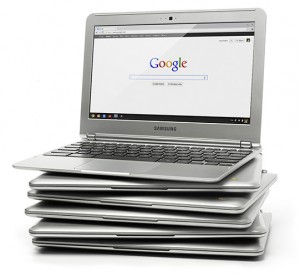 Samsung released 3 Chromeboook and 2 chromeboxes. They are Samsung Series 5, Samsung Series 5 550 and Samsung XE303C12. Chromebox models are Samsung Series 3 Chromebox and Samsung XE300M22-A02US. Samsung Series 5 is offering nearly same features with CR 48 but processor of Series 5 is 1.66 GHz dual-core Intel Atom N570 and weight is 3.26 lb. According to test, while CR 48 is offering 9 hours of standby, Series 5 is offering 8 to 8.5 hours. Base price of Series 5 is $349.99 for WiFi model and $449.99 for 3G model. Samsung then released a new price of $249 for Series 5.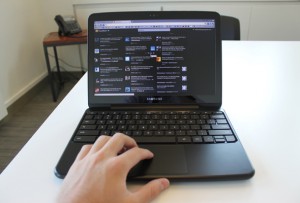 Samsung Chromebook Series 5 550 is a submodel of Samsung Series 5. It's the first model coming with Chrome logo over it. Design took good reviews and grey glossy surface is a classic. Some testers found the keyboard and trackpad better than McBook Air. Easy trackpad usage and quiet keyboard writing in deeper keys are praised. Samsung Chromebook Series 5 550 also passed screen and 3G speed test but there are some problem on sound.
Samsung XE303C12 is the latest Chromebook of company and it's a prototype of Chromebook's future. It offers 1.7GHz dual-core Samsung Exynos 5 Dual processor and it's higher than other Chromebooks. It also includes 2 GB Ram. Weight of Samsung XE303C12 is 2.43 lb and it's the lightest Chromebook ever. Samsung released model from $249.99 Wi-Fi and it made model cheapest Chromebook ever. Samsung also released Series 3 Chromebox with 1.9 GHz dual-core Intel Celeron B840 and XE300M22-A02US with 2.5 GHz Intel Core i5-2450M.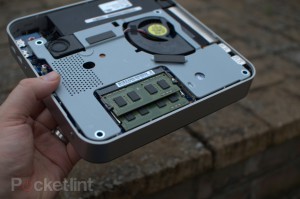 Acer has one model with Chrome OS. It's Acer AC700. Model offers 1.66 GHz dual-core Intel Atom N570, 2 GB RAM and 16 GB SSD. Battery life is 6 hours and it's the lowest in Chromebooks. Acer sells Wi-Fi model on $299.99 and 3G model on US$399.99.