Victoria Beckham and David Beckham are one of the most popular couples in the world. David Beckham is a professional football player and Victoria Beckham is a musician, an old member of Spice Girls and fashion icon. They met on 1996 and started dating in 1997. They were dating only one in a month in the first period. They were going to movies and pubs. Also they were talking on phone for hours according to their friends. They engaged in January 25, 1998 after David Beckham proposed on one knee. How many children of David and Victoria Beckham are there?


Victoria Beckham and David Beckham always become hit news for magazines. They also became news with nearly all behaviors of them. For example they didn't cut any engagement cake and they send the money of it to Goostrey Community Primary School. Engagement cake was designated so beautiful with Victoria Beckham is in front and David Beckham is sitting on back.
Marriage date of David and Victoria Beckham is July 4, 1999. Wedding is made in gothic Luttrellstown Castle of Ireland. Couple invited family members and 29 close friends. David was 24 and Victoria was 25 when they get married.
Their first child Brooklyn Joseph Beckham was born in 1999 in London. He was born by Caesarean method and it became top news on all magazines and created some rumors. He always likes to go sport events and theatres with his father and he has rarely seen with her mother. David Beckham bought very expensive gifts for his birthdays. He's lastly seen on London Olympics with his father working on Olympic Committee. Magazines wrote that Elton John is the godfather of Brooklyn Joseph Beckham and Elizabeth Hurley is the godmother of him.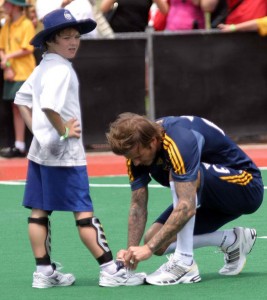 Romeo James Beckham was born in 2002 in England. Elton John became godfather and Elizabeth Hurley became godmother of him like Brooklyn Joseph Beckham. Romeo James Beckham rarely became news and most important event in his life was LA Galaxy's championship night. Cameras caught that Romeo James Beckham is on the hands of Victoria Beckham but he didn't want to go near his father. But then Victoria Beckham sent her to his father. All magazines wrote that Romeo is very jealous about his brother. He also faced epilepsy on the childhood days. Victoria Beckham always worked hard for keeping Romeo James Beckham away from flashes of magazine photographers.
Cruz David Beckham was born in 2005 in Spain. Cruz David Beckham is the most popular child of "Posh and Becks" because he likes to go matches and more with his father. Especially he likes basketball matches and NBA and it's possible to see him on every Los Angeles Lakers match. Magazines wrote lots of things about meaning of Cruz and then Victoria Beckham said in an interview that Cruz is the Spanish accent of Cross. He copied his father's 'Harper' tattoos and pasted them into his neck like his father. Public relations consultant revealed that tattoo of Cruz David Beckham is not permanent. He became news last while kissing and holding nose of David Beckham in 2012 London Olympics.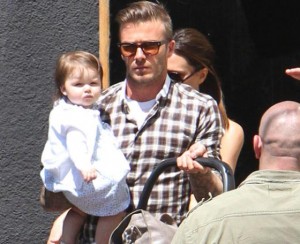 Couple's first daughter Harper Seven Beckham was born in 2011 in Los Angeles. She's firstly seen on the New York Fashion Week show in the hands of Victoria Beckham. Magazines reviewed Harper's wearing style for the first time and awarded her as the littlest fashion icon of the world. There were high rumors about the name of couple's first daughter and David gave the Seven name as it was the jersey number of Beckham on Manchester United.