Barcelona FC or Barça with its fan given nickname is the football team of Barcelona city in Spain. Club founded by Joan Gamper in 1899 and became the face of Catalan culture. Club's motto is "Més que un club" and it means "more than a club" in English. Their stadium is Camp Nou. Barcelona's official song is "Cant del Barça". Barcelona Fc is some different than other football clubs because its management way is supporter owned style. Supporters are the operator of club and this system made the Barcelona FC the second biggest and richest club in the world. Annual turnover of club is €398 million today. Barcelona won numerous cups and Champions League cup has a special meaning for them. How many Champions League cup Barcelona won?


Barcelona FC won the Champions League cup for four times. They were in 1992, 2006, 2009 and 2011. Also they lost cup in the final in 1961, 1986 and 1994.
1992 was the year Barcelona won 1991–92 European Cup for the first time. Barcelona Fc's squad was one of the strongest in last decades and Spain was waiting this cup since 1966. Barcelona FC's legendary squad was including footballers like Andoni Zubizarreta, Hristo Stoichkov, Michael Laudrup, Txiki Begiristain and Ronald Koeman. Manager was Johan Cruyff. After beating Hansa Rostock, followed it by Kaiserslautern, Sparta Prague, Benfica, Dynamo Kyiv, Sparta Prague. Final match was in the 20 May 1992 on Wembley Stadium. Barcelona Fc's opponent was Sampdoria. Sampdoria's squad was powerful with stars like Gianluca Pagliuca, Attilio Lombardo, Paulo Silas and Roberto Mancini. Barcelona FC beat Sampdoria with the goal of Koeman in the '111.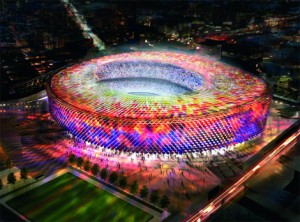 Barcelona Fc won its second Champions League in 2005–06 season. Barcelona's squad was very strong with stars like Víctor Valdés, Carles Puyol, Deco, Ronaldinho, Samuel Eto'o, Xavi and Andrés Iniesta. Barcelona FC's opponent in first group were Werder Bremen, Udinese and Panathinaikos. Barça finished this group with 5 win and 1 draw for 15 points. Then in the qualifying rounds Barça beat Chelsea, Benfica and Milan. Final match was against Arsenal. After Sol Campbell scored for Arsenal, first half finished 0-1. In the second half, goals of Eto'o in '76 and Belletti '81 gave Barcelona their second Champions League cup.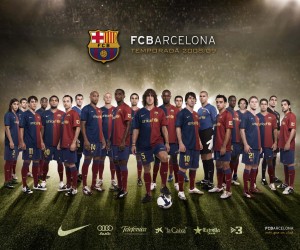 Barcelona FC's third Champions League cup was on 2008–09 season. Barcelona's squad was some over 2006 with stars like Lionel Messi, Gerard Piqué, Seydou Keita and Thierry Henry. After Barcelona beat Wisła Kraków in third qualifying round, in first group stage opponents were Sporting CP, Shakhtar Donetsk and Basel. Barcelona finished this stage with 4 win, 1 draw, 1 lost on 13 points. Then in qualifying rounds Barcelona beat Lyon, Bayern Munich and Chelsea. Final match against Manchester United was in 27 May 2009 on Rome's Stadio Olimpico. Manus was very strong with stars like Cristiano Ronaldo, Wayne Rooney, Ryan Giggs and Rio Ferdinand. But it was the day of Messi. After early goal of Eto'o on 10′, Messi tried to score for several times. At last his shot 70′ made the score 2-0 and Barcelona FC won their third Champions League cup.
Barcelona FC's last Champions League cup was in 2011. Barcelona's squad was including stars like Lionel Messi, David Villa, Daniel Alves and Javier Mascherano. Barcelona's first group opponents were Copenhagen, Rubin Kazan and Panathinaikos. Barça made 4 win and 2 draw on 14 points. Then they beat Arsenal, Shakhtar Donetsk, and Real Madrid to final. In final Barcelona FC again beat Manchester United. Rooney answered Pedro's goal and first half score was 1-1. In the second half Messi in 54′ and Villa in 69′. It was the fourth Champions League cup of Barcelona.