Jay Leno is America's most famous and richest stand-up comedian and TV host. He's making programs since 1992. Firstly he started The Tonight Show with Jay Leno in NBC and then it changed to Jay Leno Show. But now he's returned to The Tonight Show with Jay Leno.
Jay Leno is also famous for his car garage. There are over 200 cars on his garage. And also there are lots of old fixed engines and materials. How many cars Jay Leno has on his garage?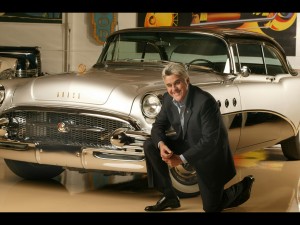 Classics have a special place in Jay Leno's garage. 1941 Plymouth Special Deluxe Business Coupe is the oldest one and 1959 Fiat Millecento is the newest one in classics garage. Jay Leno likes to use 1956 Austin-Healey 100 BN2 mostly.

Jay Leno's garage has also electric cars. Jaguar CX75 Concept is the most important part of electric car garage. There are also cars like Aptera Electric Car and 2012 Fisker Karma. Jay Leno likes to talk about electric cars of him on show.
Jay Leno likes modified cars and every year it's possible to see his new modified car from famous car company Hennessey. 2011 Hennessey Venom GT, 2011 Hennessey Cadillac CTS-V and 2012 Hennessey Venom GT are the main parts of this garage.
Jay Leno goes to vintage racings all over the world. He tries to find most unique cars. He has over 60 vintage cars. He has legendary cars like 1911 Fiat S74 Grand Prix Racer. Also 1939 Lagonda V12 Le Mans Replica is a famous one.
He has lots of steam and super cars in his garage. Jay Leno is also looking to buy lots of different models.