Subway is one of the most popular sandwich restaurant chains in the USA. Operation of Subway sandwiches is making by Doctor's Associates, Inc now. It's possible to find Subway in 98 countries and 37,881 restaurants. Headquarter of company is in Milford, Connecticut. First restaurant of Subway is opened in 1965 by Fred DeLuca. First name of restaurant was "Pete's Super Submarines" After became popular in city, DeLuca changed the restaurant name to Subway. With 33,749 restaurants, Subway is the biggest single restaurant chain in the world now. They have 1,012 more restaurants than McDonalds. Besides delicious sandwiches, Subway is used as a symbol of obesity by opponents all over the world. Subway is accused to hide or decrease nutrition facts. How many calories are there in the Subway Sandwiches?


One of the most popular sandwiches of Subway is B.L.T. It includes juicy tomato, crisp bacon and lettuce. B.L.T has 320 calories. Also total fat level is 9 g, cholesterol is 20 mg and carbohydrates in sandwich is 43 g.
Black Forest Ham is other popular sandwich of Subway. It includes Black Forest ham in 9 grain wheat. It's also possible to want this sandwich with Italian bread. Sandwich comes in 221 G serving size. It also includes 290 calories, 4,5 G total fat, 35 g cholesterol and 46 G carbohydrates in it.
Most of the chicken lovers like Subway's Buffalo Chicken menu. It includes tender glazed buffalo chicken and main taste comes from creamy ranch. Subway serves product in their FOOTLONG™ sub!. Product comes in its 270 g serving size. It has 420 calories. also a standard buffalo chicken menu has 15g total fat, 55 mg cholesterol and 46 g carbohydrates.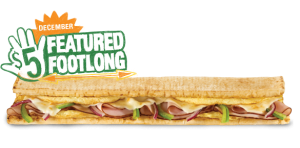 Subway Melt is a good mixture of fresh Subway products. Main ingredients of menu are baked bread, crispy bacon, ham, tender sliced turkey, vegetables and melted cheese. It comes in 241 g serving size. Product has 370 calories, 11 g total fat, 45 mg cholesterol and 47 g carbohydrates in it.
Tuna Sandwich of Subway is one of the most preferred meals of restaurant all over the world. Subway catches this taste with a mixture of flaked tuna and mayo. Also it's possible to find fresh vegetables in the sandwich. serving size of sandwich is 235 g. it has 470 calories ,total fat level is 24 g , cholesterol is 35 mg and carbohydrates is 44 g.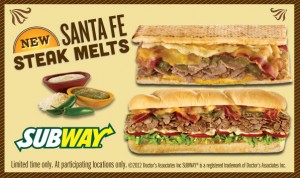 Turkey Breast menu is a classic for Subway restaurants. People think that taste of this sandwich comes from fresh tomatoes and lettuces but secret behind the taste is banana peppers. It has also a spicy version with jalapeños. Products' serving size is 221 g. it has 280 calories and 30 calories of it is coming from fat. total fat level is 3.5 g and saturated fat is 1 g. product doesn't include any trans-fat. it has 20 mg cholesterol and 46 g carbohydrates in it.


After controversies over Subway restaurants and nutrition facts, company released some new products including only vegetables. Veggie Delite is one of the most popular products in the category. It includes many vegetables like green peppers, onions, black olives and tomatoes. Veggie Delite comes with fresh baked bread. Product comes in 164 g serving size. It has 230 Calories and 20 calories of it is coming from Fat. TOTAL FAT level is 2.5 g and Saturated Fat level is 0.5 g. Sandwich is not including Trans Fat or cholesterol.
"Sweet Onion Chicken Teriyaki" is the Subway menu especially popular between Chinese and other Asian people. It includes teriyaki glazed chicken strips. Sandwich has 380 calories.