Rio de Janeiro or Rio with its worldwide popular name is one of the biggest cities in Brazil. Over 6 million people are living today in Rio. Rio De Janerio has always been a popular city with its beaches and mountains and most popular nickname of Rio is "Cidade Maravilhosa" which means marvelous city. It's a very active city with carnivals, concerts and more. Also statue which is known as "Cristo Redentor" is a symbol of Rio De Janerio. Brazilians believe that statue saves city from bad souls. Also Rio is one of the biggest cities with a beach in front of it. How many beaches are there in Rio De Janerio?


There is a fifty miles long beach of Rio city center and there are lots of small beaches. Also Brazilians use different names for different areas of this beach.
Arpoador Beach is one of the most popular Brazil beaches ever and it's most popular in Rio. Beach is between popular ones Copacabana and Ipanema. Beach is located in the middle of two big rock formations and this makes the beach a special place. Brazilians mostly prefer to go Arpoador beach with their families so it's possible to feel a family atmosphere on whole beach. Beach is also popular for surfers and surf fans. Rock formations break the big waves and make them perfect for surfing. Also rocks over beach are perfect places for wathing surfers. Price on the hotels of Arpoador is not high like other beaches but luxury is also fewer than them.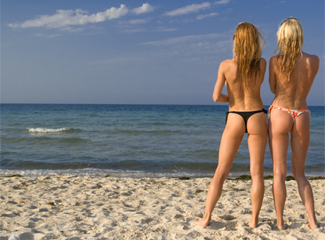 Abrico Beach is the official nude beach of the Rio. It was using by nude swimmers and sunbathers since 70s and in 2003, municipality of Rio made it official nude beach. Abrico beach offers white sands and beautiful nature scenery. Beach is between big rock formations and it's a real quite place. There were safety problems before 2003 but today city guards and polices are patrolling the area so there's no security problem. Area is also very rich for its bars and restaurants. It's also possible to eat from sandwich restaurants. Also it's possible to see some tropical trees.
Barra da Tijuca Beach is a popular place for surfers and sunset lovers. There are lots of surf courses and places rent surf accessories in the beach. Lessons are very cheap and only a few courses are enough for good surfing. There are some vans for transportation but Brazilians offer taxi to reach beach safely. There are lots of people comes to see only sunset in Barra da Tijuca Beach. Place is some far from other popular beaches so it's very quite.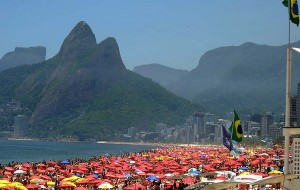 Copacabana is a worldwide popular beach in Rio. Beach takes its name from "the Copacabana Palace Hotel" and most of celebrities come here every year. Beach is one of the most active beaches in the world with 7/24 movement. It's also a life center with streets, small bars and cafes. Sea of Copacabana beach is not highly dangerous but it's not quite one. Lifeguard support is possible. Copacabana beach is not for quite environment lovers.
Ipanema is also a worldwide popular beach of Rio. It has two kilometres of white sand. It was a dirty beach before 2000s but Brazil government made some works on beach and today it's one of the cleanest beaches in Rio. People mostly prefer Ipanema for its beach activity. Also tourist guides offer here because it's very easy to reach from airport. Ipanema means "bad, dangerous waters" in Indian language and only surfers and deep lovers prefer to enter sea in this beach.