Shakira is one of the most popular singers on the world. She's also a songwriter. Her full name is Shakira Isabel Mebarak Ripoll and born in Colombia. She was a rock singer on the high school and then she prepared her unique belly dance styles. Her first two albums were not successful and then she decided to release her album. Her debut album Magia only sold in Columbia and her second album Peligro was some better than first album. How many albums Shakira has?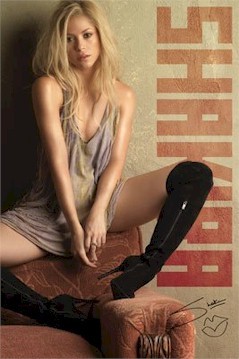 Shakira has 7 studio albums. Also she has thirty-nine singles. Her first studio album was "Pies Descalzos" in 1996. Album sold 5 million copies over the world and Shakira accepts this album as her debut album. Album's unique atmosphere affected lots of countries like Brazil and album sold over 1.2 million copies in country.
¿Dónde Están los Ladrones? is her second studio album. Album sold 7 million copies over the world and also it became Shakira's first album to be number 1 one the Latin Music Lists.
Laundry Service is Shakira's first English album. Album sold over 15 million copies all over the world. Album has lots of hit songs like "Whenever, Wherever", "Underneath Your Clothes", "Objection (Tango)" and "The One".
Her "Fijación Oral Vol. 1" album is released in 2005. No one was waiting a Spanish album from Shakira and album didn't make the effect on the gross. After "Fijación Oral Vol. 1", Shakira released "Oral Fixation Vol. 2". Album has a hit "Hips Don't Lie". Also people liked "Don't Bother".
Shakira's last two albums are "She Wolf" and "Sale el Sol".