Sports is taking a very important role in the U.S daily life. Especially basketball, hockey, American football and baseball have a very important part of Americans life. Sports bars are always a popular place in the country and today with the big screen technologies, they are more popular than ever. People go there to feel the hype together, drink something and speak about games. Also most of them play bets on these sports bars. How many worldwide popular sports bars are there in USA?


If you are in Alabama, you are lucky because you have two of most popular sports bars in U.S. One of them is "Heroes Sports Bar & Grille, Mobile" It's truly a "one-size-fits-all sports-drinking coliseum" It has a very a large craft beer selection. Also it's possible to sit outdoors and watch matches. Also "Rock Bottom American Pub" is very popular with 110-foot screens HD screens. There are over 30 screens in the bar now. Also it's possible to watch matches outside. Also it's possible to find various beer brands and cheap burgers with them.
If you are in Alaska, you can go "The Peanut Farm Sports Bar & Grill" in Anchorage. It's true that there's no professional team of Anchorage in any league and there's no sign that there will be in the close future. So there's no big sports fan crowd in the city. But Bar is in the world standard with 70 flat screens and projection TVs. It's possible to watch most of the games from satellite packages.

If you are in Arizona, you must try "Blue 32 Sports Grill" in Scottsdale. It's the first sports bar in the Arizona allows to watch 5 different matches from your seat. Also "Half Moon Sports Grill" is the best place to watch Phoenix Suns' matches. It's true that if you talk about a sports bar in U.S, you mostly say "dirty" word and talk about big fat men. But this bar is some different. It has a huge women sports fan base coming to watch all matches. Also people who want to watch matches in a good Pizzeria can choose "Santisi Brothers"
California is home of many worldwide popular teams like Los Angeles Lakers. "Big Wangs" is a very popular sports bar in Los Angeles. It's possible to see many famous people coming here to watch matches. Also besides beer selection menu, they have popular quesadillas. If you are in San Francisco and looking for a good and safe sports bar, you can choose "The Boardroom" It has a very artistic design inside. Also it's possible to watch vary of sports events from baseball to soccer. Also "Kezar Pub & Restaurant" is a good sports bar in San Fransisco if you want to go an Irish bar to watch events. "South" is the first L.A sports bar in Santa Monica allows playing games and watching sports events in 3D. They have also a huge menu of beers.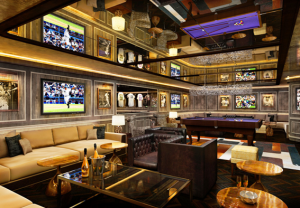 Colorado is the home of Denver Nuggets. So "Sports Column" is a popular sports bar to watch Denver Nuggets. Also they have a very detailed beer menu. You can also choose "Legends of Aurora" in Aurora. They are not a classical sports bar and it's possible to find even gluten-free menu in here. Also it's possible to find unusual food like mammoth cheese steak in bar menu.
If you are in Florida, you must try "Gators Cafe & Saloon" According to owners of pub, It's the largest waterfront bar in the world. Especially bar is full on March Madness.