Edward Munch's painting called "The Scream" is one of the most famous art products in the world. "The Scream" is known with the red sky and blue river theme but there are lots of different types of "The Scream". Edward Munch worked for lithographs and paintings of scene. The place which can be seen on "The Scream" is Oslofjord from Oslo, Norway. Painting is also one of the most expensive ones with 200 million dollars. Painting is also famous with its stealing events. "The Scream" is one of the most stolen paintings in the world. How many times Edward Munch "The Scream" stolen?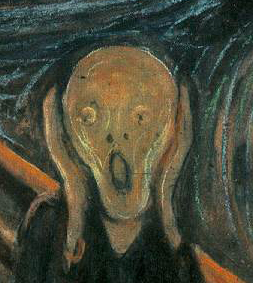 Edward Munch wrote a story behind a version of painting how he inspired "The Scream. It's a basic inspiration story. But those critics wrote lots of things about his impression units. Main story critics believe that background red is erupting Krakatoa Mountain. This event was a decade ago from Munch's painting.
There are also lots of opinions about the girl in the painting. But the main belief is that the girl on the painting is Munch's manic depressive sister Laura Catherine. Painting also referenced for some physiological problems.
There are lots of thefts over "The Scream". The first recorded steal was on 1994 Winter Olympics. Four men stole the painting from National Gallery and left a note "Thanks for the poor security". Then police caught thieves and sent the painting back.
Second steal of painting was in 2004. Masked gunmen entered to Munch Museum and stole painting with Edward Munch's Madonna painting. Paintings found in 2006. After 2006 there are also lots of theft attempt.