Alamo Rent a Car is a company of Enterprise holding like Enterprise rent a car but two companies are serving totally in different views. It's possible to see the difference in their website before everything. Headquarters of company is in Missouri. Company is mainly serving to America continent but it's also possible to find service in Africa, Europe and Australia. Company is firstly set in 1974. Unlimited mileage Program Company used in 70s made them popular with no extra charge wherever customer goes in country. How many self-service kiosks of Alamo rent a car in America?


International travelers coming to America mostly prefer Alamo. Company is the first one who started online check-in service in America. They are also popular with their kiosks. Today it's possible to find totally 171 self-service kiosks in 63 locations of U.S. Also company has an agreement with Disney and it's the official rental car of Disneyland Resort and Walt Disney World Resort.
Alamo website is not offering the simple design of Enterprise rent a car but it's offering more for professional travellers and people who always need rent a car. Site doesn't have any options like vanpooling or carpooling.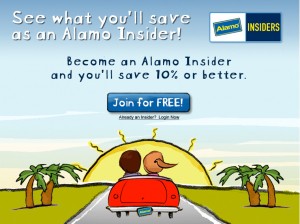 It's possible to rent from wide range of cars. It's possible to find from economy cars to ultra-luxury ones in site. One of the unique features Alamo website offering is renting commercial-sized truck. It's possible to rent such vehicles and they are cheaper than physical market.
One important feature of Alamo is choosing which car you want. It's traditional that car rental companies assign customer a car and customers use it. In Alamo, after check in, it's possible to choose the car you will use.
Website is offering not only toddler seats but also infant seats. It's very important because if you are a tourist, you have little time to find a good seat in the city center. Site is also renting toll passes and GPS equipment. Greenhouse Gas Emissions Offset is available in site but it's working some different than other can renters to buy it. Fee is sending to TerraPass Inc like other companies.
Support quality of Alamo is good. It's possible to chat online with representative. Also they can mail or talk on phone. But if you want to use your mobile phone to enter their web site and chat, you will see that it's very hard and site is not ready for such new technologies.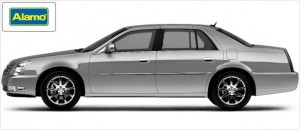 Alamo website offers more than Enterprise web site in features like buying roadside assistance packages, online reservation or insurance packages online. Enterprise website is still on development for these features and you have to go branch for such agreements.
One way rentals are possible for Alamo but there is some time limitation to left car to another location. In local places, it's easier to leave the car even time passes the limitation but in crowded places and big cities, Alamo personnel is forcing to pay fine and especially in night, it's very hard to finish the process.
It's some hard to use Alamo for people with disabilities. Department of Justice made an investigation after lots of complaints on company and found many problems for accessing terminal buildings to reach Alamo branches. Company made an agreement with government and started to develop it's accessing ways.
Company is mostly using cars from North America market like Chevrolet Aveo , Toyota Corolla, Nissan Maxima, Dodge Grand Caravan and Dodge Journey. Especially Dodge Journey is what tourists demand especially for cold states and mountain roads in highlands of America.