There are thousands of cuisines in the world and they are many cuisine specialized restaurants on them. It means various prices and also various menu types. Menu is an important part of restaurant concept and it needs to be basic and easy to choose for customers. It's sure that a menu of fine-dining restaurant and fast food restaurant is not same. Also there are some restaurants needed to change the food list always and they need flexible menus. How many restaurant food menu types are there?


Static menu is the standard and what you can see in many restaurants. They will be used for many people so it's mostly possible to see them laminated or hung on wall. Restaurants like fast-food restaurants, delis, dinners and restaurant chains mostly use static menu. Restaurant part the static many to subparts like appetizers, entrees, salads and soups and desserts. Static menu gives increased familiarity to costumers and it's in the same arrangement in each country. But when restaurant added seasonal ingredients or similar, it's looking bad on the menu.
À la carte menu is known as a restaurant menu type but it's originally a pricing system. This type menu is preparing on how the customer orders. Main dishes are not listed in the same category and when a customer wanted meal and vegetable, she pays them separately. It's a simple way restaurants use for earning more profit from side items which are not ordering frequently like potatoes. A la carte pricing scheme was very popular in 30s and today many restaurants are still using it.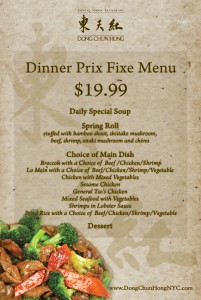 Prix-Fixe Menu offers a fixed price for some items together. In a French restaurant, when customer wanted amuses bouche, salad, intermezzo, meat, salad and dessert, if the restaurant is using Prix-Fixe menu, they will want one price for all. In many restaurants, Prix-Fixe menus are more expensive than others but they also provide food from different categories in one. In a chef-driven and fine-dining restaurant, Prix-Fixe menu changes weekly or daily. Restaurant mostly adds seasonal ingredients into menu. Some restaurants name this menu as "chef's tasting menu" or "degustation menu"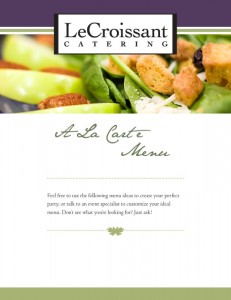 Du Jour Menu is mostly possible in rural areas of Europe. Du Jour means "of the day" and restaurants mostly use it as "Soup du Jour" Du Jour menu changes daily and Chef adds new seasonal ingredients into it. When a restaurant prepared Du Jour menu, it means customers can eat freshest food in here. Many restaurants prepare every item as special on their Du Jour menu. Also in Du Jour menus or chalkboard menus, customers can see good and fresh combinations like fresh fish, seasonal vegetables and daily dessert.
Cycle menu is mostly possible in industry areas. It means there's a meal cycle weekly or monthly and restaurant is following it. Also school cafeterias and some institutional facilities use this type of menu.
"Secret menu" is also a type of restaurant menu which is not written. When especially chain restaurants don't want to advertise some meals, they don't write it to their menu. It's only possible to learn this menu by word of mouth. Restaurants prepare many variations of meals and they want to sell the more profitable one. But when there are some loyal customers like a classic menu, they have to ask to it waiter first. There are many restaurants using this system especially in America. Chipotle Mexican Grill is one of them. They offer only five types of meal in their menu but they fry also single tacos and quesadillas. Also famous In-N-Out Burger has a secret menu for "animal style" hamburgers.