Burger King use The Whopper sandwich as the signature burger on its worldwide advertisements. Also Hungry Jack's the Australian franchise of Burger King uses the Whopper as signature product. First Whopper is produced in 1957 but then customer demands made lots of changes in its form and inside. Product became so popular that Burger King started to use the name "the Home of the Whopper". In the first period of Whopper, Burger King didn't allow local changes on burger but now it's possible to see local variants of the Whopper burger. How many kinds of The Whopper are there?


The Whopper's variants are mostly different in bread. Also some of Whopper parts are standard. They are flame grilled quarter-pound beef patty, mayonnaise and mustard. Some variants have BBQ sauce, Salsa sauce, guacamole. Also customers may add products like hot sauce, honey mustard and tartar sauce by paying more.
There are hundreds of kinds on Whopper in the world but most of them are time limited and promotional. One of the most popular promotional Whopper Burger is "The Windows 7 Whopper". Burger is 13 cm huge with seven stacked beef patties. "The Windows 7 Whopper" is sold in Japan for the promotion of Microsoft Windows 7 release. Japanese people opened fan blogs for "The Windows 7 Whopper" but computer magazines criticized it.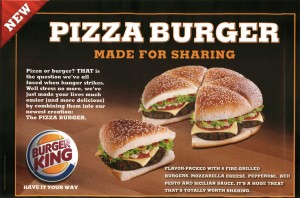 "The Pizza Burger" is another kind of The Whopper Burger. It's possible to find it on Times Square's Burger King Points known as BK Whopper Bar. "The Pizza Burger" is including four meat grills and 9.5 inch sesame bun. Also using products like pepperoni, Tuscan pesto, mozzarella and marinara sauce is making this kind of Whopper unique. "The Pizza Burger" took lots of critics because of its nutritional values. "The Pizza Burger" contains 2520 calories. Also it has 144 grams of fat and 3,780 mg of sodium. It's more than double of a man needs daily. After critics about "The Pizza Burger", Burger King's vice president made an announcement than "The Pizza Burger" is not feeding only one person.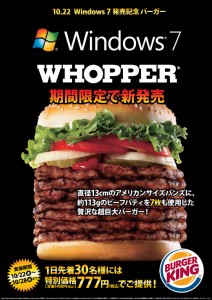 "The Angry Whopper" is some hot version of "The Whopper". "The Angry Whopper" is containing jalapeños which is known as ""Angry Sauce" or "Angry Onions". "The Angry Whopper" is also containing bacon and pepperjack cheese. This kind of hot Whopper is firstly released in Europe and after became popular Burger King released it in America. "The Angry Whopper" became famous in America after Facebook campaign that gives free Whopper when you delete 10 of your friends from your list.
Also Burger King created some Whopper kinds but they couldn't be successful and company stopped their producing. Most popular one of them is "The Chicken Whopper". "The Chicken Whopper" was a cheap version of original Whopper with grilled chicken fillet but customers don't like it ever. Also The Chicken Whopper, Jr. is discontinued with "The Chicken Whopper". The Quarter pound cheeseburger was a kind of Whopper with additional items like mustard and onions but customers don't like it also. After a short period, Burger King made some differences on "The Chicken Whopper" and released it with the same name in Middle East and Europe but changed its name to "TenderGrill Chicken Sandwich" while releasing again in New Zealand, Spain, Italy and Turkey.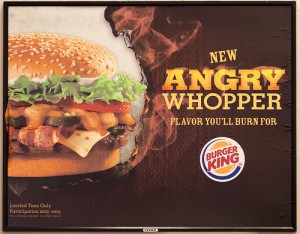 There are some rumors about new kinds of The Whopper today. But while rivals of The Whopper are reducing the calories of burgers, The Whopper's new variants are always higher in calories and it's the biggest problem standing in front of Burger King. For example, while the original Whopper is 670 calories, McDonald's Big Mac reduced the product to 540 calories.