Kentucky Derby is one of the most famous races in the USA. It's a horse race with only Thoroughbred horses on three-year-old. It's known also one of the biggest stakes race and categorized as Grade I stakes race in USA. Kentucky Derby takes place in Kentucky of Louisville annually. Kentucky Derby is one of the races from US Triple Crown but it's so famous that name is also known as the original name of all series. How many Kentucky Derby stakes race are there?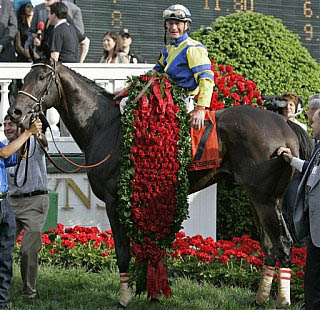 Kentucky Derby started on 1872. After Meriwether Lewis Clark, Jr. went to England and Paris and saw biggest races on there, he returned to Kentucky and decided to create a race. First he organized Louisville Jockey Club. The first race was on Churchill Downs. In 1937, the downs registered as Churchill Downs officially.
There are three races on this series. They are Kentucky Derby, Preakness Stakes and Belmont Stakes. Kentucky Derby is most famous one with its race atmosphere, two week capping schedule and traditions. There is a traditional drink of race called Mint Julep, Its mix of bourbon, sugar and mint. The race is also known as "The Run for the Roses" because 554 roses are giving to winner.
The second race Preakness Stakes is organizing in Baltimore, Maryland's Pimlico Race Course. Preakness Stakes is also famous for its traditions. The most famous tradition is Black-eyed Susans blanket.
Belmont Stakes is the last race on series. It's organizing in the Elmont, New York's Belmont Park. First triple won was made in 1919.