Ipad Mini is the last product in the Apple's Ipad series. It's classified in mini tablet computer category. It's firstly announced in October 23, 2012. It's the first time Apple reduced screen size in Ipad series. Price of Ipad mini in USA is $329 while it's £269 in United Kingdom. Apple announced that company will start to ship Ipad mini in November 2, 2012. It's a rival of Kindle Fire and Nexus 7 but device's price is higher than them. Also some experts claim that Apple is very late on entering mini tablet market. How many different features of Ipad Mini than Ipad 3?


One of the most important features Ipad mini offers is slim style. Ipad is one of the thinner devices in tablet market but Ipad 3 is thicker than Ipad 2 because of battery. It offers extended lifetime up to 10 hours but most of fans disappointed on this new dimension. Ipad Mini is offering also 10 hours battery life but it's possible to see that device doesn't have battery surfeit in back.


Ipad Mini's screen size is 7.9 inch. It's a deep rumor that Steve Jobs never approved such devices and he believed that tablets under 9 inch are completely garbage. Ipad Mini's resolution is 1024×768 and it's same with Ipad 2 but Ipad Mini is offering a higher pixel density on 163ppi vs 132ppi. First reviewers claim that colors are more vivid than other Ipad series and text is sharper. Also it's possible to see that web pages are fit to screen perfectly. It's possible to fit 25 icons into one page.
5MP iSight camera is same as other Ipads. But depending to its size, taking photos and videos with one hand is possible. It's capturing same quality of 1080p video but it's possible to watch videos in a sharper way in Ipad mini's small screen.
Processor of Ipad Mini is i5 again. It's possible to make all things you do in Ipad 3. But first reviews showed that Ipad Mini is offering fast processing and sharp quality in even 1080p videos.
Connectivity features are in their top level for Ipad Mini. 4G network is perfect for mobile connection. 5GHz WiFi means superfast web site loading times. But it's possible to see that so fast website loading is some problematic in screen before all web site is loaded into cache. Icons and some pictures are not in their place.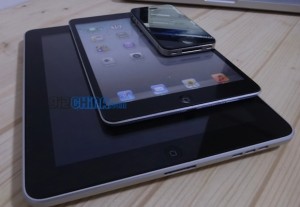 Reading book in Ipad Mini is a good experience with updated Ibooks. New Ibooks for Ipad Mini has continuous streaming feature. Maybe it's not a Kindle still but new updates may take Ipad Mini close to Kindle.
Apple listened fans and changed the place of some buttons. Most important changes are the volume and screen-rotation lock buttons. Apple moved them to right-hand side. Also headphone socket came into top again. Stereo speakers are still in the bottom. There's also a new lightning connector.
Ipad Mini's release date is scheduled for the Kindle and Nexus 7 because these two admiral players didn't release any new version for at least 1 years. But it's still possible to see that Ipad Mini is expensive than them. Some rumors about Ipad Mini's prices were under $200. But Apple didn't want any price compare to other models and company believed that Ipad Mini will break sell records again whatever its price is. Customers meet the Apple's predictions and all Apple Mini's in pre-order are sold in 3 hours. It's also a sign that nearly all customers bought Ipad Mini without touching it.