Google is one of the biggest internet service companies in the world. It needs big servers for operation and they are called as data centers. According to tech rumors, each data center is built by Google on over $600 million. They are located in special containers and high security. They are working 24 hours a day, 7 days a week and they have scheduled service maintains only. Google data centers were only in America in the first half of 2000s but today it's possible to see them on Asia and Europe. How many data centers of Google are there?


There are 13 data centers of Google all over the world. One of the most popular data centers of Google is Berkeley County Data Center. Data center is started to be built in 2007. Google invested $600 million for the facility. Google data center added also many new developments in Berkeley's social life. One of them is free Wi-Fi service in Goose Creek. Also company made the Googlefest 2012 in area and helped nonprofit organizations.
Council Bluffs Data Center is started to be built in 2007 like Berkeley County Data Center. In spring of 2012, Google announced that first facility is not enough now and company will build a new facility. Google made $900 million investment in facility and created 130 jobs to people working on facility. According to formal numbers, Google made $608,000 help to nonprofit organizations and schools in the area and till 2011, Google is giving free Wi-Fi service for Council Bluffs.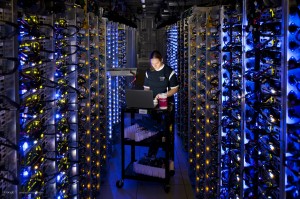 Douglas County Data Center is started to be built in 2003. It's the biggest data center in Atlanta region. According to tech news sites, Google paid hundreds of millions of dollars for this facility because of its strategic location and some problems on the facility. Over 300 people are working in the facility for Google. Also according to Google sources, company awarded over $4 million for schools in Georgia. After some problems on cooling the data center and critics on the high energy Google using, company started to use water management technology for cooling in facility. Google is now using its own reuse water system in facility.
Quilicura Data Center is the data center of Google in Chile. Data center is started to be built in September 2012. Data center is still in production and according to Google sources, it's planned to be finish on 2013. Facility is making some test data transfers. Google opened the data center because according to last numbers, Latin America is the most growing internet society in the world. Investment on facility is $150 million USD. 20 people will work on the facility.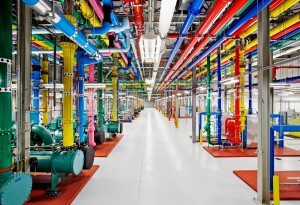 Hong Kong Data Center is located in Tseung Kwan O Industrial Estate in Kowloon. Google bought 2.7 hectares of land in the area and now plans are on the last stage. Google made USD300 million investment for the company. 25 people will work on the facility. According to sources from Google, Hong Kong Data Center will be the biggest data center of Google and it will serve to all Asia.
Hamina Data Center is in Finland and Google bought an old mill to build the center. First phase of project cost Google over €200 million. In 2011 Google made a second phase investment with €150 million and now facility is operating to Europe and worldwide.
Dublin Data Center is the European headquarters of Google. Google made €75 million investment for the area. Data center started to operate in September 2012. Google also used its new energy system and facility is using the lowest energy requirements of all data centers.