Burger King is one of the biggest fast food companies all over the world. Since its starting year 1954, company faced lots of controversies and legal cases mostly in nutrition and health topics. Now it's possible to find nutrition facts on every Burger King shop and on their internet site. There are also controversies about nutrition facts consistency all over the world. How many calories are there in Burger King Products?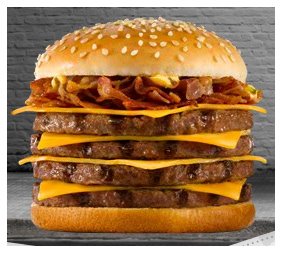 Whopper is the sign product of Burger King. A standard Whopper has 1370 calories in medium menu with medium coca cola and salted French Fries.
Double Whopper is the double meat version of classic Whopper. There are 1430 calories in a double Whopper menu with coca cola and French fires. Triple Whopper has 1670 calories and Whopper Junior has 870 calories in medium menu.
Tendercrisp is one of the newest worldwide products of Burger King. It has white chicken fillet with ripe tomatoes. Tendercrisp has 1450 calories for medium choice with coca cola and French Fries.
Tendergrill is also a newer product of Burger King. White meat chicken fillet is inside the burger. A medium Tendergrill with coca cola and French fries has 1170 calories.
Also there are classic burgers of Burger King. A single hamburger has 260 calories, cheeseburger has 300 calories and double cheeseburger as popular has 450 calories. Classic chicken burger has 470 calories. Popular onion rings have 410 calories in medium size. Also popular Caramel Sundae has 280 calories.