Sex and the City is a popular American drama of HBO. First episode is aired in 1998 and final was in 2004. Total episode numbers of series were ninety-four. Main movie set was New York City and scenario is mostly adapted from novel "Sex and the City" Story is about four women and their relationships. Stars of series were Sarah Jessica Parker, Cynthia Nixon, Kristin Davis and Kim Cattrall. Topic was mostly sex and sexuality. Also many episodes were about differences between relationship and friendship. It earned 54 Emmy and 24 Golden Globe Award nominations. Especially Carrie Bradshaw's boyfriends were the most controversial topics of series. How many boyfriends of Carrie Bradshaw in Sex and The City?


20-something dude with his nickname or Sam was the first boyfriend of Carrie Bradshaw in the series. They met and went to bed in first night. But Carrie realized that Sam is very young for her. Episode was ""Valley of The Twentysomething Guys" and Carrie was looking for a young lover but after get laid, she woke up in frat house pad of Sam, immature roommate of him greeted her and she couldn't find toilet paper in the bathroom.
Giles was maybe first love of Carrie in the series. It was season 1 and Carrie's heart was beating for a handsome French architect. They met in some episodes but they broke up after Giles left $1000 as a payment of rendezvous. It was not clear why he left this money but then Carrie understood everything.
After a stormy first season, dating games and more, Carrie was some tired and she returned to her safe port John which is nicknamed as "F-buddy" After one night stand histories, Carrie wanted her as a boyfriend and persuaded him for a dinner. But when they went to dinner and movie, they understood that they have nothing to share in the life more than a bed. They were friends till the final of series and they called their relationship as "friends with benefits"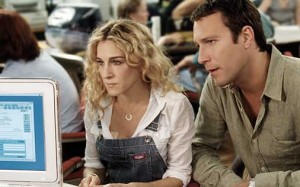 Season 2 was mostly lasted with Carrie's tries on dating regularly and finding new friends. But when it's "'Games People Play" episode, Carrie found Seth in the therapist's waiting room. Everything was great on the date and they went to bed. But something went wrong in the bed and Seth said that he lost interest on women after he slept with Carrie.
Vaughn Wysel was a fiction writer and coming from a great family. Carrie didn't realize that his family will be a problem and she will face adaption problems. Over some problems on adaptation, documentary film maker mom of Vaughn Wysel get jealous on his son and Carrie understood that his mother will love him more than Carrie.
Patrick Casey was the last hit of season 2 which Carrie started and finished with problematic boyfriends. He was looking as a good film composer but then Carrie understood that he is alcoholic. Carrie tried to break up everything but Casey became some obsessed with her.


In the third season, Carrie found "Comic book guy " in "Hot Child in the City" episode. Everything started good but then she realized that Wade is 30-something year but living with her parents still. Carrie found something good in Wade and tried to get longer but everything finished when Wade's mother busted them while smoking pot.
Season 3 lasted with two strange relationships. First one was a bisexual boy who is called as "The Bi Guy" Everything went ok first but then Carrie understood that it's not ok. Season 3 finished with The Politician man but everything went over fetishy.