The Houston Rockets is the NBA team of Houston, Texas. Team is playing on Southwest Division of the Western Conference. Team is founded in 1967 in San Diego, California but in 1971, it moved to Houston. They firstly went to NBA Finals in 1981 but lost to Boston Celtics. Rockets destiny changed when they drafted Hakeem Olajuwon. He created an unforgettable pair with Ralph Sampson and they are called as first "Twin Towers" of NBA. They again went to NBA finals but again lost to Boston Celtics in 1986 Finals. How many times Houston Rockets became NBA Champions?


Houston Rockets went to NBA Finals many times before 1994 NBA Finals but they lost. It was the last years of Hakeem Olajuwon's career, he went to NBA Finals in 1986 but lost to Larry Bird's Boston Celtics. It was the season that all Houston city was believed for first ring of NBA. After 1991–92 season, Rudy Tomjanovich became the headcoach of team and franchise gained a momentum. In 93 season, Olajuwon was changing to an all-around player. After 58–24 record in normal season, they defeated Portland Trail Blazers, Phoenix Suns and Utah Jazz for finals. Opponent was Pat Riley's New York Knicks in the final.
It was one of the most assertive and exciting series ever in an NBA Finals. After Houston defeated Knicks in first match lost second match in their home and many critics believed that Knicks will be the champion. It was Knicks 3-2 but last two matches were in the home of Houston. They managed to win two matches and became NBA Champions for the first time.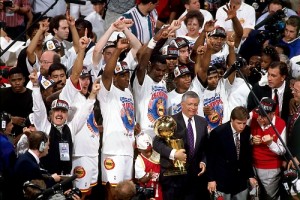 Houston started the 1995 season with Clyde Drexler move. Hakeem Olajuwon and Clyde Drexler played on University of Houston together and many people believed that Drexler is the perfect guard for Olajuwon. But Houston struggled with some problems in season and took sixth seed in the Western Conference. No one expected their walk to finals. They passed Utah Jazz, Phoenix Suns and San Antonio Spurs. All three teams finished the league with over 60 wins. Opponent in the NBA Finals was Orlando Magic with Shaquille O'Neal and Penny Hardaway. Also they had good names like Horace Grant.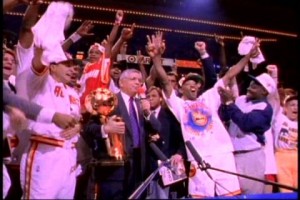 All critics believed that Orlando Magic will take a simple championship in the series but it was not possible. First match was Orlando Magic's Orlando Arena. After an overtime match, Rockets defeated Orlando. Orlando media criticized team for the play on the first match because Nick Anderson missed 4 consecutive free-throws in last 3 seconds and Olajuwon tipped the last missed shot.
After first match, it was a duello between Hakeem Olajuwon and Shaquille O'Neal. Olajuwon scored 34 while O'Neal scored 33 but O'Neal took one more rebounds. Rockets defeated Orlando again in Orlando Arena.
Third match of series was the most contestable match of series. Match went tie till the end of 4th period but Robert Horry's 3 pointer in last 14 seconds helped Rockets for 3-0.
In the last match, it was a war between Hakeem Olajuwon and Shaquille O'Neal and Olajuwon won it. O'Neal's average was 35 but in the last match Olajuwon stopped him at 25 only.
Also 1995 Finals became popular with when Houston's Head coach Rudy Tomjanovich said "Don't ever underestimate the heart of a champion!"
Rockets never gained NBA Championship again. They lost to Seattle SuperSonics in 1996 Playoffs second round. They played with top players like Yao Ming and Tracy McGrady but because of problems like injuries and other struggles, they never went to NBA Finals again.