The Nexus 7 is the first tablet of Nexus series. It works on Android mobile operating system and produced in the cooperation of Asus and Google. Market aim is being a rival for tablets like Ipad, Blackberry Playbook and Kindle Fire. But the main aim is being a rival of Kindle Fire with book reading and screen features. Google I/O unveiled tablet in 2012 and started to take pre-orders for America and Canada. Lots of news leaked from Google since the first production idea of tablet. Some of them were Android 4.1 and Tegra 3 processor. How many new features are there in the Nexus 7?


Nexus 7's first announced features were not telling about a new era on the tablet market. But it was very important that Google is releasing a tablet produced by its own superiority.
One of the most important features Nexus 7 has is Bluetooth 4.0. Bluetooth 4.0 has some special abilities only available in Android 4.1 and users will allow using these sharing and similar abilities.
Another important feature is removable deep buttons. It's making the screen resolution 1205×800 after no buttons edition available. But first reviews showed that it's hard to use touchable main buttons.
4325 mAh non-removable battery is not the highest one for similar tablets but with Android 4.1's reduced power usage features it will be one of the most important tablets in market.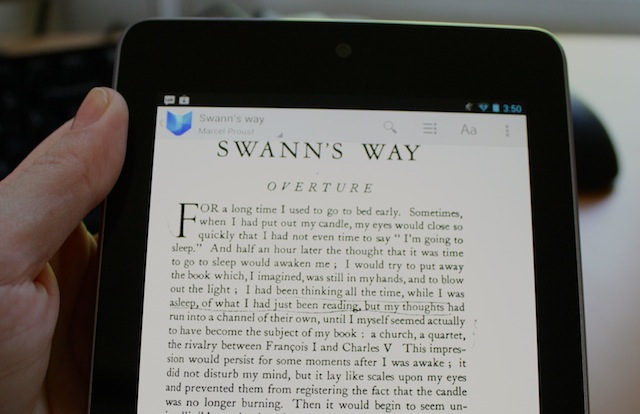 Nexus 7 is coming with a pin called Pogo pin. Pogo pin is a universal pin available in the Nexus devices but it will be possible in future devices of Google. There are some developments about Pogo pin usage in company also.
Nexus 7 criticized not only with available features but also with not available features. It's planned to be a Kindle Fire killer and it's not possible to see HDMI port on tablet. Also there's no expandable microSD slot. There are some ways to use flash drive on Nexus devices but Nexus 7 like other Nexus devices don't have any official support for it.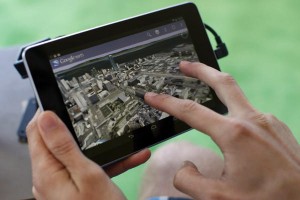 As a rival of Kindle Fire, Asus and Google used scratch-resistant Corning glass on Nexus 7. It's an important feature because users have some problems about Kindle Fire's screen. First tests showed that Nexus 7 tablet's screen is stronger than Kindle Fire especially in daily use.
It was supposing that Google will use a unique port in this tablet but after release it's seen that Nexus 7 is using a standard Micro USB. But there are some rumors that Google restricted some sharing abilities from USB.
$199 first price of Nexus 7 is same as Kindle Fire. But it may be a high price if rumors are right about Apple and their new 7.85-inch version of Ipad.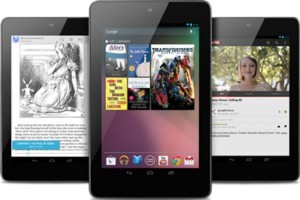 Content of Nexus 7 will be available from Google's Play service. But today the quality of Google's content service is not close to Amazon. Especially some content control problems on the Google Play is public nowadays.
It was also important that Google Chief Executive Larry Page and co-founder Sergey Brin came to Google I/O event for announcing this device, they answered the questions unusually. Questions were mostly about Nexus 7 and Android 4.1's new features similar to Apple Ipad's features like. "Voice search" feature of Nexus 7 was an important topic because it's the rival of Apple's Siri.
Google's most assertive topic on Nexus 7 was its weight. Nexus 7 is only 340 g since ASUS Transformer Pad 300 Series is 635 grams. Also price is 200$ lower than similar models. Nexus 7 has 8 Gbstandard memory. 16 GB models will be 249$.