Smoothie or smoothy with its known name is a popular beverage possible to find in all popular fast food restaurants. It's one of the classic of summer days. Main item using for smoothie is fresh fruit but also it's possible to see ingredients like chocolate and honey. It has a special recipe so smoothies are some different than milkshake or similar drinks. Smoothies became popular in health food markets and restaurants in 1960s. They were delicious, healthy and low calories. But today additional items using by popular fast food restaurants made smoothies a calorie bomb. How many calories are there in smoothies of fast food restaurants?


Most popular smoothies of world are definitely in Burger King. Burger King always changes the name of its smoothies but recipes are nearly same. New Burger King Smoothie is BK® Tropical Mango Smoothie. BK is using real fruit and low fat yoghurt to create this taste. It's possible to find it on all sizes. L size contains 210 calories. Also it has 51g Carbohydrates and 41g sugar. M one has 310 calories. Also 73g carbohydrates and 65g sugar is possible. In L version, 410 calories, 97g carbohydrates and 81g sugar are possible.
McDonalds also has delicious smoothies. Their current versions are Strawberry Banana Smoothie, Wild Berry Smoothie and Mango Pineapple Smoothie. Strawberry Banana Smoothie is the leading smoothie of company. It's a good mixture of strawberry's bitter taste with banana's sugar. S one has 210 calories, 49g carbohydrates and 44g sugar. It's m version has 260 calories, 60g carbohydrates and 54g sugar. L version has 330 calories. Also it's possible to find 77g carbohydrates and 70g sugar.
Wild Berry Smoothie is a new taste of McDonalds. It's a good mixture oh berries. Small cup of Wild Berry Smoothie has 210 calories, 48g carbohydrates and 44g sugar. M size Wild Berry Smoothie has 260 calories, 60g carbohydrates and 55g sugar. L size has 320 calories, 75g carbohydrates and 69g sugar.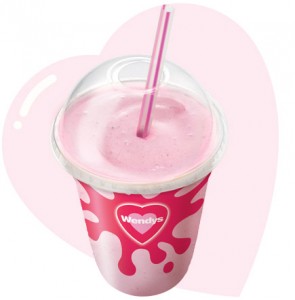 Mango Pineapple Smoothie is also a new product of McDonalds. It's a fresh taste with the fresh mango and pineapples. 220 calories, 49g carbohydrates and 49g sugar are the nutrition facts of its small size. M one has 270 calories, 61g carbohydrates and 60g sugar. L size of Mango Pineapple Smoothie has 350 calories, 78g carbohydrates and 77g sugar.
Wendy's has also lots of different smoothie types. There are 3 classes of Wendy's smoothies as dairy smoothies, non-diary smoothies and yoghurt smoothies. Most popular products are Banana with low-fat milk, Mango Mayhem and Watermelon. Leading product of Wendy's dairy smoothies is Banana Smoothie. It's a good mixture of banana, skinny milk, malt and honey. It's 413 calories and 78.4g carbohydrates. Wendy's Mixed Berry Smoothie is making from berry puree. It has 411 calories and 75g carbohydrates. Last product on diary smoothie class of Wendy's is Wendy's Strawberry Smoothie. It has 395 calories and 71.5g carbohydrates.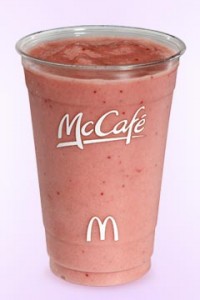 Wendy's non-diary smoothies are also very popular. They are Mixed Berry Smoothie, Green Apple Smoothie, Citrus Sensation Smoothie, Lemon Lime Smoothie, Tropical Smoothie and Watermelon Smoothie. Leading product on this class is Green Apple smoothie. It's one of the lowest calorie smoothies in fast food restaurants. It has also 66.7g carbohydrates. Citrus Sensation Smoothie of Wendy's also has fans. It's making from Club Tropicana Sorbet. It has 260 calories in a standard cup.
Wendy's yoghurt smoothies are new products. They are Banana Lite, Berry Apple Breeze, Mango Mayhem and Strawberry Banana Split Smoothie. Especially Strawberry Banana Split Smoothie is a popular product and has 328 calories in a standard cup.