Chevrolet Aveo or Chevrolet Sonic with its popular name is one of the most popular cars GM Daewoo is manufacturing globally. First generation of series is lasted in 2010 and today it's the third series of popular car. Debut of 2013 Chevy Sonic RS is made in 2012 Detroit auto show. Earlier series of car had four-door versions and three-box sedan versions but new version came as five-door hatchback. First tests showed that car is hard to impress old drivers with its style but it will be good for first time car buyers and first time drivers. How many new features of 2013 Chevy Sonic RS are there?


First of all, Chevy RS Sonic is now challenging with new rivals like Mazda, Hyundai and Ford and its very important to jump a new category for such cars. It was hard to say Sonic RS jumped to a new category with its non-RS hatch in 2012 but new 2013 model is ready to jump. With new quality level, testers started to put car into their urban dweller lists. Chevy is very lucky on its new category because today's models in this category like Kia Rio, Hyundai Accent and Ford Fiesta are offering performance-based vehicles but none of them are sport and shiny as 2013 Chevy Sonic RS.
Another important new feature of Chevy Sonic RS is its standard equipment list. Chevrolet is working hard to enter the new category and it's possible to see that company made some self-devotion to achieve it. Most important standard feature of new Sonic RS is sunroof. Today buying a sunroof and installing it for a car in this category is at least $820. Also leather-wrapped steering wheel with flat-bottomed style, surfaces with leather seating is offering both luxury and comfort. Most of the cars on this category offers similar but none of them are offering special 17-inch wheels and extreme road performance like RS. It's also hard to find interior technological features like MyLink in cars of this category. Some people can think interior is cheap-looking with plastic materials but they are soft and possible to see in all segments of this level.

Engine of Sonic Chevy RS is performance based for the city roads. It's equipped with a 1.8-liter four-cylinder engine. This means 125 lb-ft of torque and 135 horsepower. It's true that Chevy RS is not irregular with this engine but the 1.4-liter turbocharged inline four-cylinder Ecotec engine is not lower than rivals. Also features like a Hydra-Matic 6T40 six-speed, 138 horsepower at 4,900 rpm are good for such models.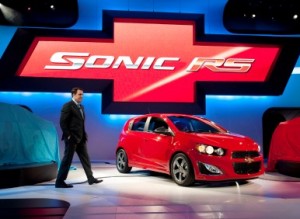 GM Daewoo worked hard to make the model sportier possible and result is a sportier five-door econobox. Company procure this with MacPherson strut front suspension and semi-independent V-shaped torsion beam axle. According to first tests, combination is working well on this car. But combination lacks in the shorter wheelbase. According to first tests, steering feel is not under the average but there are still some problems.
According to first tests, car is noisier than its rivals. There's a balanced noise in the lower speeds but when speed is faster, it's like a cat in heat and noise is really disgusting for alone long way drivers. Chevrolet applied a new style for gearbox with longish throws. It's good but unfamiliar for this category and category fans.
Base price for new 2013 Chevy Sonic RS is $20,995. There are some expectations for the new entries to category but price is not higher than rivals and first-time buyers can prefer this model for its performance and interior design.